Yes, Sorry: Zac Efron Left a Party with Teresa Palmer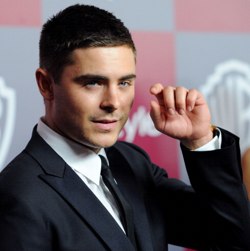 Last night, Movieline attended the first press screening of Take Me Home Tonight, the upcoming 80's-themed rom-com featuring Topher Grace, Anna Faris and Teresa Palmer -- the latter of whom arrived at the film's afterparty with a famous date whose attendance might have sparked a minor cultural meltdown.
Zac Efron mingled with Palmer and the rest of Relativity Media's guests following the screening, where the cheerful Aussie-born actress could barely contain her excitement. A little less excited was Efron, whom I briefly caught up with to talk about the movie. He confessed not having seen it yet but looking forward to it. Maybe he was there representing for Relativity, then, for a forthcoming project? Nope. "I'm just here for my friends," he said. "And I always have fun at these kinds of events."
About 10 minutes later he and Palmer left the party -- together. And this less than a month after he and fellow Disney alum Vanessa Hudgens were said to have revived their relationship! A related tweet from E! correspondent Cristina Gibson -- "Zac Efron and Teresa Palmer? Hear they're together at a screening right now...interesting" -- sparked panic on Twitter, with Efron and Hudgens fans alike railing against the heartthrob. "the zanessa fans will be hurt when they find out this time the reports are true zac is cheating on vanessa and making her believe he is not," wrote one obsessive, with more to come no doubt. Anyway! This happened.