Uma Getting Married: The Ceremony Trailer is a Tweerific Affair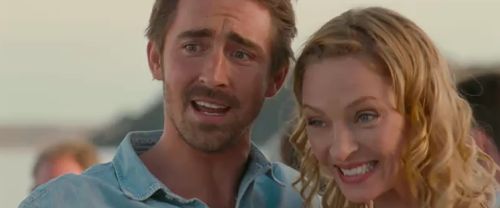 You'd watch Henry Winkler in just about anything, wouldn't you? Children's Hospital? Arrested Development? Joanie Tolerates Fonzie? Anything. Well, Winkler's son Max is a freshman director whose first film Ceremony pairs Uma Thurman with a bunch of up-and-coming funny actors. Let's watch the trailer and see if young Max can revitalize "wedding crashing" as a comic subgenre without jumping the shark. Ha Ha.
It's twee. I've meant to ignore that word for four years now. The cinematography is a cutesy box of Cray-Pas with Wes Anderson's smudges on the lens, and I sort of expected the title to be Rachel Getting Married 2: More Jokes, Less Child Murderers.
Luckily, the cast doesn't overplay a single line of dialogue here, and I'm thrilled about Uma Thurman starring in a straightforward comedy with Apatowian leanings. As for the supporting players: Huzzah to Jake Johnson (Paper Heart and No Strings Attached) who looks hilarious as Thurman's ne'er-do-well brother. The only depressing bit of news? Lee Pace as the expectantly overconfident groom-to-be, a part we've seen dozens of times in the past decade. That cliche aside, I'm torqued for a Michael Angarano's emergence as a leading man. Let's commit.
Verdict: Put a ring on it (but draw up the prenup in case).