Play the Statuesque Sweepstakes: Choose and Share Your Oscar Picks, Win a MacBook Air!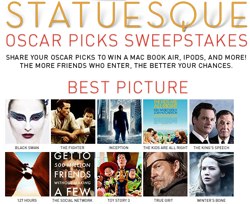 Raise your hand if you like free stuff. Whoa. Keep it raised if you like the Oscars. Yesss. That's what we at Movieline thought. Thus we are pleased and thrilled to introduce our Statuesque Oscar Picks Sweepstakes, wherein you put your awards-prognostication acumen to use for the opportunity to win either a MacBook Air or one of two new iPods. It's easy!
The only catch is that you have to tell your friends. Here's how:
· Visit the contest home page to browse the nominees in the three applicable categories: Best Picture, Best Actor and Best Actress.
· Click your selection in each category, which will give you the option to share your pick on Facebook, Twitter, MySpace or, if social media happens to frighten and/or appall you, via e-mail. (Sorry, John Hawkes! You're probably going to have to sit this one out.)
· Enter the message you wish shared, and let it rip. You're entered!
And here's the big thing: Every friend who enters from your referral means another entry for you. The possibilities are endless! If only the Academy Awards worked this way; we might be able to rig a Jacki Weaver victory.
Anyway, play around with it over here, and keep an eye on our nonstop awards-coverage at Moviline's dedicated Statuesque site as well. Good luck!