Movieline Investigates: Is There a Template for the Perfect Oscar Speech?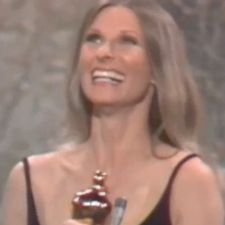 We've got the 2011 Oscars pinpointed like a Foursquare convention, but it's time to address the less predictable element of the big night: The speeches! The Academy Awards are flush with wonderful moments (Louise Fletcher, you goddess!), but recent Oscar winners -- save Sandra Bullock -- could use a few tips on speechifying. Come along as we name three podium mistakes and identify the best single speech for future winners to learn by heart.
First, let's eliminate some bad habits straight-away. The dashing Christoph Waltz was a revelation in Inglourious Basterds, but he started his Oscar acceptance with an inscrutable analogy that tainted the rest of his speech. Oscar winners should always try and stick with Dorothy Parker brevity. Christian Bale, you have been warned.
Conversely, Oscar winners who say too little are also a bit puzzling. Jane Fonda, who turned in one of the most memorable performances of the '70s in Klute, was no stranger to making statements at the Academy Awards. When she was nominated for her also-stellar work in They Shoot Horses, Don't They? the year before, she stepped out of her limousine and gestured in solidarity with the Black Panthers. When it came time to win for Klute, she only said onstage, "There's a great deal to say, and I'm not going to say it tonight. I would just like to thank you very much." Vague hostility is rarely a telegenic treat. At least make the easy Klute joke that for one hour, you were the greatest actress on the planet.

Vezi mai multe din Cinema, movie trailers pe 220.ro
Another gaffe: spinning off into strange poetics. Tom Hanks's speech for Philadelphia may have inspired the film In and Out -- and it may be one of the most passionate yarns at the dais -- but it also gets strangely self-important at the 3:20 mark. Let's keep the Ginsbergian imagery to a minimum.
Where have these lessons been best exercised? The finest template for Oscar speeches, if there is one, remains the immortal Cloris Leachman's 1972 speech for The Last Picture Show. Not everyone has the stature to give a career-capping soliloquy like Shirley MacLaine, George Burns, or Ruth Gordon, but everyone can take tips from Ms. Leachman's speech on the big night. Note the following: the ebullient trot to the stage, the extemporaneous flow, the perfect opening line, the thoughtful remark about filmmaking, the adorable shout-outs, the hometown love, and the radiance. Phyllis Lindstrom's having a good time up there, and she's even more gorgeous because of it.