Late Night Highlights: Matthew Perry Jokes About Masturbating Into a Pile of Friends Money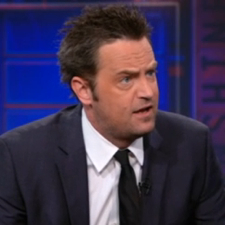 Matthew Perry has been testing out his blue humor during his recent Mr. Sunshine promotional duties. Earlier this week, the actor demonstrated a colonic for David Letterman, and last night, he talked about masturbating with Jon Stewart. Elsewhere, Stephen Colbert interviewed a cat about Egypt, Josh Brolin previewed a never-before-seen sequence from True Grit, and Jesse Eisenberg described his Oscar date woes.
4. A True Grit Special Feature
On Jimmy Kimmel Live!, True Grit star Josh Brolin premiered a never-before-seen feature of the actor who almost played Hailee Steinfeld's part.