John Hawkes on His Winter's Bone Oscar Nod: 'I Kind of Prefer the Underdog Role'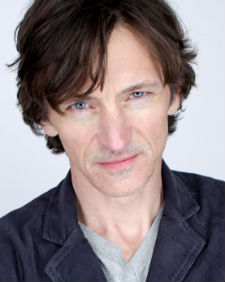 Best known for his character work on Deadwood and in the indie charmer Me and You and Everyone We Know, John Hawkes earned raves for his quietly menacing performance as the volatile, meth-addicted Teardrop in Debra Granik's Winter's Bone. In addition to nabbing Academy Award nominations for Best Picture, Best Actress, and Best Adapted Screenplay, the Ozarks noir notched an Oscar nod for Hawkes -- his first -- who will vie for Best Supporting Actor against the likes of Christian Bale, Geoffrey Rush, Mark Ruffalo and Jeremy Renner.
Movieline spoke with Hawkes shortly after he returned home from the Sundance Film Festival, where he learned of his "dreamlike" nomination.
You were at Sundance with two films, Higher Ground and Martha Marcy May Marlene, the day your Oscar nomination was announced -- quite a busy week.
It sure was crazy. It's hard to believe, it's very surreal. Obviously I wasn't at the top of too many lists, if any, and so it just feels like a dream come true. It's a wonderful thing for my family, who I care a lot about and I think are enjoying it too. It's something I didn't think would ever happen and certainly I think that this year, on some level, it may be the closest I'll get to something like that. But for it to actually become reality is dreamlike and a very sweet thing.
What does it mean to you to receive what many people consider to be long-awaited recognition of your work?
Well, I don't know about that. I don't know what else I've even been close to a nomination on. It's something I didn't think would ever happen, and certainly I think that this year, on some level, may be the closest I'll get to something like that. But for it to actually become reality is dreamlike and a very sweet thing.
You've become a favorite character actor for many over the years; how much of a sense have you had, moving through various projects through your career, that that's the category you've fallen into either by design or by accident?
I've never had any delusions about being a leading man, and it's not sour grapes to say that in the best films that I've always enjoyed, the clichéd leading man type isn't a part of the picture. I think that a certain kind of leading man roles are actually kind of boring. I don't think that in good movies that's true, but there's a lot of bad art that just relies on a pretty face and I've never really been in those kinds of movies anyway. Not that pretty faces can't act, too. But you get the picture.
As in your work, you seem to prefer to live out of the spotlight. Is that why you don't use e-mail or Facebook?
I don't have e-mail and I never have, and I'm not on the social networks. The only thing I use the computer to do is play poker, pretty much. Actually, exclusively. It's a hobby; I don't play it all the time, but I really love the game and I've gotten to play in some big tournaments that will invite "celebrities" because they know I play poker. I've gotten to play with people I watch on TV and gotten to know some of those people. It's a game I love, so the computer seems useful for that. I made up a joke years ago: I can't wait to get e-mail so I can triple the amount of people I can't keep up with. That's kind of how it felt to me. I already have so many people in my life that I don't talk to enough, including family, so I don't need virtual friends, particularly.
Has the steady buzz around Winter's Bone this year brought new offers in to play bigger parts in bigger films?
No, not at all. I think I'm still a little bit unknown. I kind of like it like that -- it makes me more effective in my work, and I have a more enjoyable life, really. But I feel that one of the reasons I've been able to be effective, if I've been effective, is that people don't exactly know who I am and it's easier to buy me in a character as opposed to somebody who may be super famous or overexposed.
So there's some value in being a dark horse in the Oscar race?
Sure -- I mean, I have no delusions of winning. It's thrilling to be part of it and to be mentioned with all of those really great actors, but I kind of prefer the underdog role in general. It's not one I've chosen, but I've embraced it, for sure.
Your journey with Winter's Bone has been a long one - you shot it a few years ago, the film premiered at Sundance last year, and another year later it's made it to the Oscars. What part of your character has stayed with you most vividly?
His tenacity. The fact that, in the film, he never gave up - that's a great quality to hang onto. A lot of times I feel like I play a lot of characters who don't have the skills and tools to solve the problems they're trying to solve, but they continue to try anyway. There's something noble about that, and I try to emulate that however I can. It's determination, really. When I was first talking to Debra Granik about it before we'd even met, I told her I was going to try to distill the story and the character into a word or two. I like to do that sometimes, and for this movie I liked a word combination that doesn't really make sense, but she got a kick out of it and I would refer to it occasionally: Blood-nerve. Blood meaning family and also literal blood, which the movie has some of, and nerve meaning viscera and bodily nerve, the thing that young gal Ree and hopefully Teardrop had in trying to solve a nearly insurmountable problem.
So much of the power of your performance as Teardrop is unspoken. How much of a conscious choice did you make to channel Teardrop's struggle through physicality rather than words?
You know, early drafts of the script had long monologues from Teardrop, and Debra warned me as we were shooting that they'd pared the script down. I hadn't been receiving drafts because I think that people forget I don't have email sometimes, so I was several drafts behind and realizing that a lot of the stuff I'd learned wasn't even in [the script]. She let me do some of that stuff, warning me that she was really looking for silence in the film wherever she could find it. She wanted space in the film, she wanted silence in the film, so a lot of things went away. In nearly every scene there's dialogue that we shot that was pared down to make a more sparse feeling for the story.
What kind of conversations did you have with Debra and Jennifer [Lawrence] when it came to the initially menacing, shifting dynamic between Ree and Teardrop?
Jennifer and I didn't discuss things a great deal. It was nice to have a slight awkwardness between us, it was valuable, and I could tell as soon as we started that she'd be a wonderful partner to help tell a story with. There was some nervousness about how extreme Teardrop should be; how hard and unpredictable. One of the reasons Debra was interested in me playing Teardrop, oddly, was from Me and You and Everyone We Know. I think she saw a vulnerability that she wanted the character to somehow have. [Debra and I] could be honest with each other, and I really fought for Teardrop to maintain his ferocity -- not out of a desire for me to chew scenery, but because the story needed it. It's about a young woman who's going to have a difficult journey, and if I'm to be a seeming obstacle to that journey, I should be a real obstacle to that journey. Because I don't harm her in the end, it should seem like I'm going to from the beginning. A good storyteller doesn't play the ending. So since Teardrop doesn't turn out to molest her, or murder her, or accidentally get her killed, it should seem like that the whole way because it'll make her journey more interesting for the audience to watch.
How different do you think your view of Teardrop is from how you think others see him?
One thing I love about the character is that people always talk about the change he has, how he's different from the beginning to the end. I don't think he is. I think he's exactly the same. Actors are always looking for their characters to grow or whatever, and I love the fact that there was no epiphany, no "A-ha!" moment for him, or he changed into a "good" person; he was the same person at the beginning as he was when he walks to his seeming death at the end. He's just doing his best for his family and the first way to do that is to discourage this young woman from going into a place she shouldn't go. And once she has gone into that place, he gets in there and fights as hard as he can to help her out. She opened a door that she can't close, and he goes in with her.