American Idol Top 3 Auditions: Austin City's Limits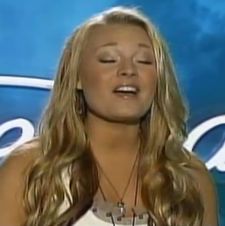 Longhorn country served up a tasty trough of sangers, y'all. I could've just eaten them up with a pitchfork and a soda gun fulla A1 sauce! Yee-hoo! But seriously: Austin only gave us three auditioners worth real remembrance, and they're listed after the jump. Bonus: I'm comparing each winner to a famous pop-culture "Austin." Clever of me! Because lots of famous people are named Austin, and pop-culture connections are as delicious as a piggy riding a sheepdog. Or something! Country, I don't understand you!
John Wayne Schulz
When your jet-black cowboy hat looks authentic but your lime collared shirt looks like a Ryan Stiles wardrobe staple from Who's Line Is It Anyway?, I question the credibility of your twang. But John Wayne Schulz seized on the True Grit of his namesake with his audition, belting out an uber-countrified rendition of Brooks and Dunn's "Believe." The internet told me that John Wayne Schulz had a record released when he was 14, but never mind that: He trilled spotlessly, and I'd like Jeff Bridges to play him in a biopic called Crazy Shirt.
Austin level: Brian Austin Green. Attractive, tall, the Megan Fox-marrying sort, but lacking the gravitas to remain a pop-culture presence long after his initial success.
Janelle Arthur
Idol is obsessed with quaint folk, the people with Mawmas and Daddays and pet boars named America. It can get cloying, but Janelle Arthur's voice cut through the muck with her rendition of Duffy's "Syrup and Honey" and the strongest lady vocals of the night.
Austin level: Tracy Austin. She has the stealth powers to take down a Martina Navratilova once in a blue moon, but her youthful merits will peter out just as true phenomena like Steffi Graf and Monica Seles (Molly Dewolf Swenson and Naima Adedapo) emerge.
Casey Abrams
We've been short on howlers this audition season, but Casey Abrams' Fraggle-like visage came loaded with a voice to match Taylor Hicks, Chris Daughtry, and -- well, neither of those, actually. I lied. But he did OK! Casey's take on "I Don't Need No Doctor" was as spirited as a box social in Pigeon Forge, and I'd gladly pay $12.50 to see him strain his vocal cords for 90 minutes.
Austin level Stone Cold Steve Austin. His firepower and charisma are undeniable, but his relevance is not so immune to skepticism.