Late Night Highlights: Charming Justin Bieber Tweets With David Letterman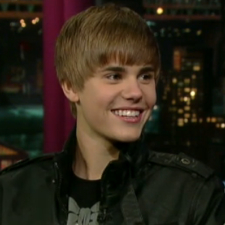 You might not think that David Letterman and tween sensation Justin Bieber would have much chemistry, but the unlikely pair proved otherwise on last night's Late Show, when the Beebs hung, tweeted and joked with the elder Dave. Elsewhere, Adam Sandler explained why his kids hate Jennifer Aniston, Kevin Smith talked Red State protests, Craig Ferguson dressed in drag, and Adam Scott told Jimmy Fallon about feeling ugly.
5. Adam Scott's Appearance Complex
The Parks and Recreation star told Jimmy Fallon how he feels about co-starring with Megan Fox (in a new film) and Rob Lowe in Parks.