Kyle Gallner Explains How He Got Cast in Kevin Smith's Next/Last Film, Hit Somebody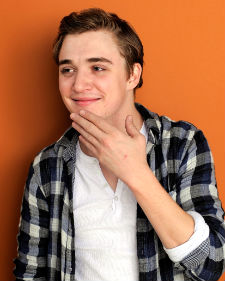 Kevin Smith made waves in Park City by buying his own controversial horror pic, Red State, and announcing his impending retirement from directing, but buzz continued to build around his next (and allegedly final) film, Hit Somebody. The 1970s-set hockey pic, named after a Warren Zevon song, will reunite Red State cast members Michael Parks, Nicholas Braun, Michael Angarano, and Kyle Gallner, the recent Verge interviewee who also starred in the Sundance entry Little Birds. Movieline caught up with Gallner to ask: How did Smith recruit him for a second go-round?
"We shot for a few weeks [on Red State] and he came up and asked me if I could skate," recalled Gallner, one of Sundance's 7 Fresh Faces in Film. "He pulled me off to the side and said, 'I've got this other movie and I'd like you to be in it.'"
The 24-year-old will play a Wayne Gretsky-type opposite Red State co-star Braun, who nabbed the lead role as a bruiser named Buddy McCracken who makes his way into the World Hockey Association with dreams of goal-scoring glory.
Gallner, who describes his character in the horror pic Red State as "kind of a dick," credits Smith's faithfulness as the reason nearly all of Red State's ensemble cast -- including Michael Angarano, Michael Parks, and potentially John Goodman and Melissa Leo -- will show up in Hit Somebody. "He's bringing Nick in to be the lead, he wants Michael to play one of the roles. It's nice to have that kind of loyalty in Hollywood."
With the same actors in place for what will be a very different Kevin Smith movie, Hit Somebody is, in a strange way, an alternate world for Gallner & Co.'s characters to play in. "It'll be another world! It'll be really funny for the three of us to work together in another film, in the same movie," Gallner promised. "Believe me, it'll be very different. I've just got to learn to skate."
Until Hit Somebody reportedly begins filming in July, Gallner's got some time off: "I'm pretty unemployed right now. My buddy Thomas Dekker has a movie that he wrote and directed that he asked me to be a part of, which if everything works out I would like to do. A lot of them are indies, so until you're on set filming -- and even when you're on set and filming -- you never know."
More from Movieline's complete Sundance coverage at the Dockers House sponsored by Java Monster here.