Is Your Five Layer Dip Recipe Better Than Cory Monteith's?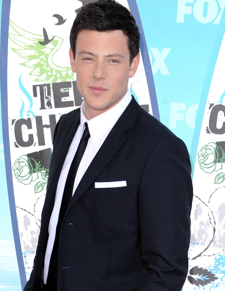 Fox is promoting the hell out of this Sunday's Super Bowl-Glee doubleheader. The network has already released a preview of the over-the-top episode, complete audio of the "Thriller"/"Heads Will Roll" mash-up, and now they're even doling out some Glee-approved serving suggestions for your own Super Bowl party.
Like Cory Monteith's prized dip formula.
"Of course I'm into Super Bowl parties. I always bring a five layer dip," the actor explains on the network's special Super Bowl site. "I find that the balance between a refried bean and a cool sour cream really kind of complements any kind of taco chip that you put into the dip. That's why I think five layer dip is always a good choice for sporting events. Of course I make it myself. [pause] I never make it myself."
OK, well if you still want to play along with Fox, here is the recipe that some web coordinator dug up for the actor.
10 Servings
15 Minute Prep
15 Minute Cook
Ingredients
* 1 15 oz. can refried beans
* 1 jar salsa
* 1 1/2 cups guacamole
* 2 cups shredded jack and cheddar cheese
* 1 cup sour cream
* Black olive slices and/or diced green onions for garnish
Directions
1. Heat the refried beans in a pan over medium heat.
2. Once hot, spread the refried beans into the bottom of an 8 × 8 glass baking or serving dish.
3. Add the salsa, guacamole and sour cream, spreading each out to form layers.
4. Top with cheese.
5. Garnish with olives and/or green onions.
6. Serve with tortilla chips.
And if Five Layer Dip doesn't do it for you, check out the other cast member's recipes, like Matthew Morrison's Amazing Chili Cream Cheese Dip (just two ingredients required!) and Heather Morris' Chocolate-Covered Peanut Butter Balls. Or just order pizza, like the rest of the country.