How Miley Cyrus Ruined Her Big Bong Scene: A Cautionary Tale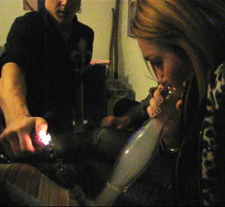 Back in December, Miley Cyrus received widespread criticism from the blogosphere (and Bill O'Reilly), after TMZ caught the star partying with a bong. That incident should have taught all of us teenage pop stars worth over $100 million something about doing drugs in front of anyone with a camera phone, a memory or crude negotiation skills. But if it didn't, maybe the following tale will scare you straight.
After Miley's Great Bong Scandal of 2010, producers on the star's latest movie LOL were forced by Mandate Pictures to digitally erase all traces of the actress in one of the film's party scenes. So much so that Us reports that "film editors are erasing Cyrus' entire arm out of the pot-smoking shot."
The 2011 comedy from Lisa Azuelos stars Cyrus as a teenager juggling a diary, a few boyfriends, her divorced parents and life at a prestigious high school. Demi Moore plays the pop star's mother in the film.
Mandate Pictures reportedly didn't want to deal with any controversy surrounding the scene because of the star's recent exploits -- even though Cyrus claimed to have just smoked "salvia -- a natural, legal hallucinogenic" in her incriminating video rather than marijuana. The moral? Not only is marijuana a gateway drug, it also might cause you to lose an arm.
· How Miley Cyrus' Bong Scandal Hampered Her New Flick [Us]