Timeline: The Long, Tortured History of Orson Welles' Lost Film The Other Side of the Wind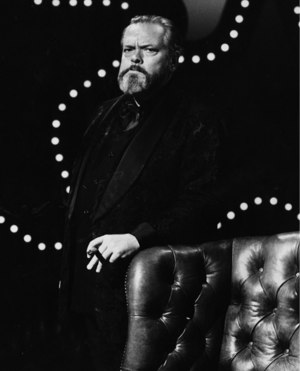 Word hit this week that Orson Welles' famous lost, unseen film The Other Side of the Wind might finally see the light of day soon. It sounds like great news; people close to the production and who have seen footage say that Welles' final film, which stars John Huston as a controlling director, is a potential masterpiece. Now, however, Welles' former partner (and current rights-holder) Oja Kodar has said that resolution is no closer. And actually, we've heard all this before -- several times, in fact, often via director and one-time Welles confidante Peter Bogdanovich, who has spent years fighting for the film's release. Ultimately the film's troubled history spans more than 40 years and includes a wide assortment of financial woes, legal battles, estate squabbles and even the Iranian Revolution. This calls for a timeline.
Bogdanovich has not yet responded to Movieline's request for comment about Other Side's status, but searching elsewhere revealed the tortured road from the film's script in the late 1960s to the present day:
Late '60s: Reportedly inspired by a trip to Spain, where he visited Ernest Hemingway "as the great man was surrounded by his entourage and the clutter of lunches that lasted until dinner," Orson Welles writes the screenplay -- or something like it. According to Welles' biographer David Thomson, there wasn't much of a script when Huston eventually joined Welles, but rather ideas and speeches for Huston to read and improvise. An excerpt is available here, and if you have a spare few thousand dollars lying around, there's a 210-page draft of the script available for purchase here.
· 1970: Welles starts shooting in Hollywood. He continues through 1971, shooting whenever he has money and producing the film himself.
· 1972: Welles takes a break to work on F For Fake, a movie that will still blow your mind.
· 1974: Welles casts John Huston and shoots for six weeks in Carefree, Arizona.
· 1975: Welles shows two sequences from the film at the ceremony for his AFI Lifetime Acheivement Award. AFI tries to veto the idea, but Welles refuses to show up unless they budge. And they do. According to Bogdanovich, Welles requested that Bogdanovich finish the film if anything happen to the elder filmmaker.
· 1976: Principal photography wraps and financial troubles begin. Producers come in and out, flaking out repeatedly as they did for much of Welles' career. One Spanish producer apparently absconds with $250,000. Welles finds funds from Mehdi Mouscheri, the brother in law of the Shah of Iran.
· 1979: Revolution in Iran overthrows the Shah. This brings more funding trouble and the rights to the film "slip into oblivion."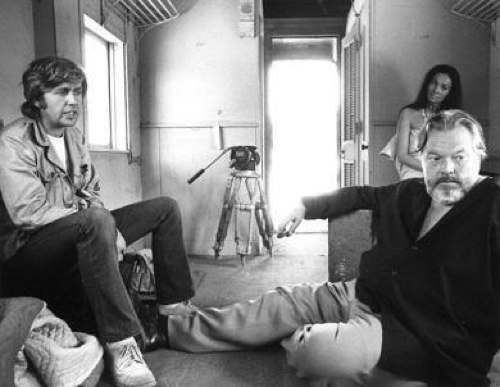 · 1985: Orson Welles passes away, supposedly having edited 40 minutes of the film. Welles' girlfriend, actress Oja Kodar, inherits the rights to his unfinished projects; she teams with Bogdanovich and Welles' cinematographer Gary Graver (above left, with Welles and Kodar) to find new funding and buy out the Iranian backers -- with whom Welles tussled for years over Wind's ownership rights -- so that the film can be completed.
· 2002: After years of continued rights issues and shopping the project around, Kodar reportedly gets Showtime to agree to finance the completion of the film. Enter Orson Welles' daughter, Beatrice Welles, who manages her late father's estate and claims that she must approve a deal before it can go forward.
· 2007: Extended negotiations finally result in a new Showtime deal, which apparently includes a substantial payment to Beatrice Welles. Bogdanovich announces that the deal is 99.9 percent complete and that the film will be released in 2008. He later reverses course, saying that more than a year of work remains to finish the film.
· 2008: Showtime puts completion on hold because of problems collecting all materials.
· 2009: Rough cut screens to a select group of film scholars in Berkeley. One calls it the "most interesting and exciting unfinished Welles work out there."
· January 2010: At a screening, Bogdanovich says he hopes all of the legal problems will be sorted out in a few months, and that after that, there are still at least four to six months of editing work left.
· January 2011: A year after Bogdanovich hoped for everything to be resolved in a few months, Kenneth Sidle, a lawyer involved in the dispute, says he hopes that they will know in the next few weeks.
· January 28, 2011: Or not. Kodar states, "It is true that Jacqueline Boushehri, the wife of the Iranian producer, and I are interested in the film being finally completed. But from Showtime we still have not received the details of a budget. Without it I won't give the rights to anyone."