Sundance Sales Roundup: Chimps Raised Like Humans and Celebrity Pastors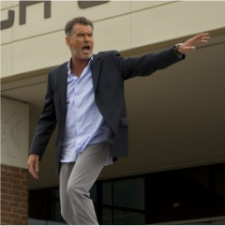 Sundance is winding down, but news of acquisitions is still trickling in. In today's batch of films, you'll find the latest documentary from Man on Wire director James Marsh, an urban coming-of-age drama and Pierce Brosnan as a charismatic pastor. Oh right, and Greg Kinnear as an ex-Deadhead.
The Film: Project Nim
The Distributor: Roadside Attractions (HBO will air the film on television, Lion's Gate will distribute the DVD)
What is it?: From the director of Man on Wire, this competition documentary follows a chimpanzee who was raised like a human child as part of a 1970s experiment. Adorable or disturbing? We'll see.
Release Date: Unknown.
The Film: Salvation Boulevard
The Distributor: IFC Films/Sony Pictures Worldwide
What is it?: Pierce Brosnan plays a charismatic priest who frames an ex-Deadhead (Greg Kinnear) after he accidentally commits a terrible crime. Points here for inspired casting at least.
Release Date: Unknown.
[Deadline]
The Film: Gun Hill Road
The Distributor: Motion Film Group (Upstart distributor from the financier who brought Hounddog and Twelve to theaters)
What is it?: A Bronx-set tale dealing with an ex-con, family tension, sexual transformation and all of that good stuff. Esai Morales, Judy Reyes and Isiah Whitlock star.
Release Date: Unknown.
[Deadline]
The Film: The Last Mountain
The Distributor: Dada Films
What is it?: A supposedly uplifting David-and-Goliath type documentary about a small community fighting one of America's biggest coal companies.
Release Date: June 3, 2011
[Deadline]