Sundance Sales Roundup: Ewan McGregor, Uday Hussein and a Talking Cat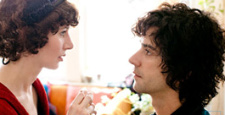 The key word in today's Sundance business report is "developing." As in, two of the three films are on the verge of finalizing deals, but we'll have to wait until later today to get final confirmation on the distributor. Regardless though, expect to see this entire batch in theaters in the near future. And it's quite a group! Today we've got the film about Uday Hussein's body double, the Miranda July film narrated by a cat and the one where Ewan McGregor and Eva Green probably get naked.
The Film: The Devil's Double
The Distributor: Lion's Gate (in final negotiation stages)
What is it?: As the title suggests, this one follows the exploits of the body double (Dominic Cooper) for the devil. By the devil, I mean Saddam Hussein's hard-partying son Uday.
Release Date: Unknown.
[Deadline]
The Film: The Future
The Distributor: Roadside Attractions and IFC are apparently "battling it out."
What is it?: Miranda July's follow up to Me and You and Everyone We Know concerns a couple whose life changes dramatically when they decide to adopt a cat. Also, the film is narrated by the cat. I'll leave the inevitable twee-jokes up to the readers here.
Release Date: Unknown.
[Deadline]
The Film: Perfect Sense
The Distributor: IFC Films
What is it?: Crying! Sex! Love! More Crying! Screaming! Eva Green! Ewan Ewan McGregor! Oh right, that was just the crazy trailer. But the actual plot isn't too far off. Here, Ewan McGreggor and Eva Green fall in love right as a mysterious epidemic that affects senses and emotions hits. Count me in!
Release Date: Unknown.
[Deadline]