A Vampire Diaries Warning from Rachael Leigh Cook: Don't Trust My Husband!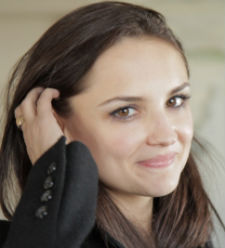 Vampires seem to be a throughline these days in Rachael Leigh Cook's life; the actress co-starred as the obsessive girlfriend of a serial killer in the Sundance entry Vampire the same week real-life husband Daniel Gillies returns as the ambiguous underboss Elijah on the CW's The Vampire Diaries. But lest you VD-heads get taken in by Gillies charms as Movieline has, Cook has a warning she wants to share.
"He's a super evil vampire," Cook said of husband Gillies. "Don't trust him. And don't take candy from guys in vans!"
Cook admitted that Gillies is "good and creepy" in his role as Mystic Falls' super-powered gentleman bloodsucker. But when Movieline asked if Cook might get to play alongside her hubby one day on the show, she politely shot the idea down -- a shame, since she can easily pass for Elena Gilbert's long-lost cousin or a member of the Petrova clan. (Right? Leave a comment and tell us who she could play.)
Meanwhile, Cook and Gillies do have another project cooking together, albeit one that is vampire-free. "I made a film with my husband that just got completed called Broken Kingdom," she began, "Yet hopefully will be on the festival circuit. Again, really tough subject matter but a really cool experience, and I think he's absolutely brilliant."
"He plays a writer from America who runs away to Bogota, Colombia, and it's alluded to that he's quite successful but he can't write anymore. It's about his unlikely friendship with a 15-year-old prostitute, a girl who sort of becomes his muse. And then my character's a nursery school teacher in Los Angeles who is clearly holding some sort of a dark secret. The mystery of these things is, why are we telling these stories at the same time? It's not like a Rashomon/worlds collide thing, but they very much relate."
Stay tuned to Twitter for more from the Sundance Film Festival.
More from Movieline's complete Sundance coverage at the Dockers House sponsored by Java Monster here.