A Charlie Sheen Party Timeline: A Briefcase Full of Cocaine, Porn Stars and Ambulance Ride Included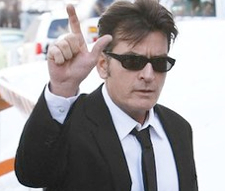 Apparently Charlie Sheen did not get Movieline's Enough, Already memo. While Sheen's co-star Jon Cryer regaled television audiences with tales of Sheen's porn star-laced exploits on last night's Conan, the troubled CBS star was midway through a 36 hour bender that would top any of his previous adventures -- hotel rampage and Christmas knife-play included. Details of Sheen's latest party outlined below.
· Tuesday night, Sheen allegedly invited 2 porn stars, a "business associate" and a few other ladies over to his house.
· After hours of drinking wine and jamming to Red Hot Chili Peppers deep cuts (TMZ's detail, not mine), a person arrived with "a designer briefcase -- that contained multiple bricks of cocaine."
· A 911 call was placed at 6:35 Thursday morning after Sheen complained of severe abdominal pains.
· Sheen left his own party via stretcher and ambulance. He was met at the hospital by his parents and ex-wife Denise Richards.
· A friend "inside the house" during the bender leaked these details to TMZ.
· No changes have been made to the Two and a Half Men production schedule at present time. CBS, who as recently as last week, told press that they were worried for Sheen personally but satisfied with him professionally, has not commented.
So much for those New Year's resolutions.
· Charlie Sheen's Bender -- Briefcase Full of Cocaine [TMZ]