Oscar Index: Social Network, King's Speech Resume Steel-Cage Death Match
So you've probably heard about yesterday's Academy Award nominations. Pretty interesting, if you're into that kind of thing. And really, who isn't? More importantly, who isn't into Movieline's Oscar Index, which went a respectable 30 for 35 in its inaugural attempt to narrow down this year's nods to a science? Let's break it all down -- and see what it means for the Oscar home stretch:
[Click the graphs for larger images]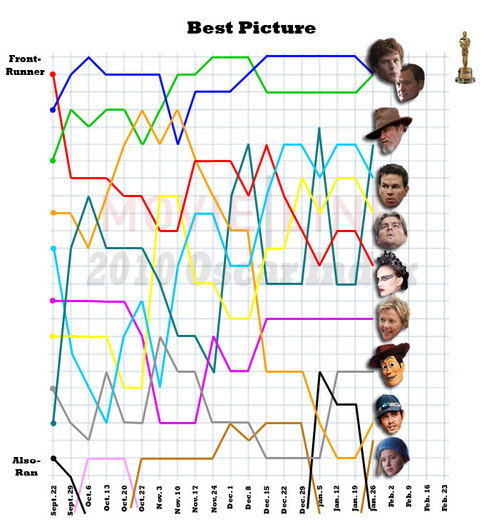 The Nominees:
1. [tie] The Social Network
1. [tie] The King's Speech
3. True Grit
4. The Fighter
5. Inception
6. Black Swan
7. The Kids Are All Right
8. Toy Story 3
9. 127 Hours
10. Winter's Bone
Notes: Before we get too far into this, let's first give a round of applause to Harvey Weinstein: The Oscar Whisperer's extraordinary awards-hoarding talents were on full display as The King's Speech shocked Hollywood with a Producers Guild win for Best Picture -- then followed that up with a season-best 12 Academy Award nominations. On the one hand, it wasn't so hard to see the dozen nods coming down the pipe (it's not like Social Network was going to get costume and art-direction nods, after all). On the other, from that PGA loss to Oscar oversights like Best Supporting Actor, senior Academy voters appeared to be putting TSN in its place after an unprecedented run through previous critics and guild awards announcements. "It's a revolt, is what it is," wrote Jeffrey Wells at Hollywood Elsewhere. "It's the old getting onto the young and saying 'no... no! Our most highly honored film can't be about kids talking about computer codes.... no!" Meanwhile, Dave Karger played his longstanding King's Speech allegiance cool, noting only, "Whatever ends up happening, it's clear that despite The Social Network's critic-award sweep, we actually have a close contest for the Oscar."
Screw "close," though. I'd say in pundit perception terms alone this week -- and with Harvey creatively courting the Academy's biggest voting bloc while quickly developing new box-office-boosting strategies -- this race is dead even.
And then there's True Grit, the ultimate wild card in all of this. With 10 nominations of its own -- including an equally shocking supplanting of Christopher Nolan in the Director category -- it has plenty of true believers around the Academy. It has two distinct disadvantages, however: The preferential Best Picture balloting system doesn't quite allow for the kind of vote-splitting we all assume resulted in Crash's plurality-based victory in 2006; and the Coens, who edit their own films under the nom de splice Roderick Jaynes, were snubbed in the Editing category. And, as Paul Sheehan points out at Gold Derby, "Ever since the Oscars introduced an award for editing in 1934, only nine movies have won Best Picture without at least being nominated for the editing Academy Award." Depending on whom you ask (cough, Scott Rudin, cough), this latter detail may seem like more of a historical fluke than campaign hurdle. Nevertheless it's a problem -- and one Paramount must address to sustain its own momentum this week.
As far as the rest, what can I say? Winter's Bone is blowing my mind right now with four nominations in big-time categories (Picture, Actress, Supporting Actor and Adapted Screenplay), but that'll pass -- though am I the only one who can foresee Debra Granik and Anne Rosellini pulling some Geoffrey Fletcher-over-Jason Reitman type of upset over Aaron Sorkin? It's not like they have to beat him and King's Speech screenwriter David Seidler. Think about it. Oh: And sorry, Ben Affleck. The Town was good. It was very good. Alas.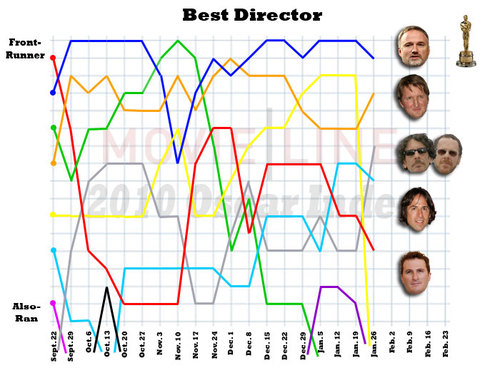 The Nominees:
1. David Fincher, The Social Network
2. Tom Hooper, The King's Speech
3. Joel and Ethan Coen, True Grit
4. David O. Russell, The Fighter
5. Darren Aronofsky, Black Swan
Notes:
You know how when you're working in Photoshop and you have to get rid of a layer, the program issues an approval prompt, e.g. "Delete the layer 'Chris Nolan'?" Exactly. That's when the Inception filmmaker's stunning ouster from the Best Director race really hit me! Screenplay nomination aside, this guy has some enemies in the Academy. Or maybe it's just another one of those aforementioned fogey revolts that chose to emphasize the guys who made affecting, straightforward tales like The King's Speech, The Fighter and (particularly) True Grit over the smartypants who befuddled half of America with Inception. It's anyone's guess. (Thought the latter scenario doesn't really explain Aronofsky's nomination.) But what isn't anyone's guess is that Hooper -- who apparently survived having "literally jumped out of my skin" after Saturday night's upset -- is riding his film's PGA/Oscar nom wave all the way to a direct showdown with Fincher on Feb. 27.