Late Night Highlights: James Franco Gets His Arm Stuck Under Jon Stewart's Mini Fridge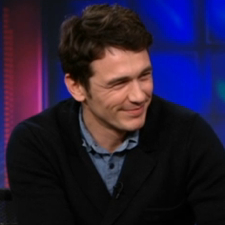 In today's very special Oscar nominee edition of Late Night Highlights, James Franco celebrates his 127 Hours nod by getting stuck under a mini-fridge, and then lamenting the fact that none of his students recognized his Academy Award achievement. Elsewhere, Hailee Steinfeld parodied True Grit with Jimmy Kimmel and Tom Arnold consoled the Oscar rejects -- that means you, Julianne Moore.
4. About That Time James Franco Got Stuck Under a Mini Fridge
To celebrate his Oscar nomination, 127 Hours star (and this year's Academy Award host) James Franco stopped by The Daily Show....only to get stuck underneath a green room mini-fridge.