Do the Latest Fan Photos of Spider-Man Reveal Another Mystery Villain?
We're psyched for Andrew Garfield's gig as the littlest Spider-Man, but we've been worried about the world surrounding the hero. Who's out to get him? What are the stakes? Luckily, the newest candid photos of Spider-Man's shoot give us a glimpse of at least one potential enemy. He's quite dastardly!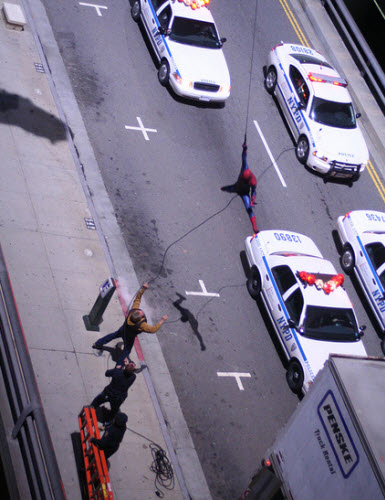 Movieline's own local hero (and weekend editor) Dixon Gaines hints that the fellow with the hat and the... whip? Rope? Lasso? Looks like it could be Montana from the hitman corps The Enforcers. Indeed, according to the taxonomies of the Marvel Universe, Montana wields significant talents with a lariat. On the other hand, last anyone heard, Rhys Ifans was supposed to be playing villain Dr. Curt Connors, aka The Lizard. Is this another villain altogether? An alternative to The Lizard? Simply a wayward cowboy? And in any case, does his potential inclusion excite you? As long as he doesn't mock Mr. Garfield for practically wearing his ribcage outside his body, I'm cool with him.
· Spider-Man Movie Images [Collider]