Will Italy Allow the Jersey Shore Cast to Defile Its Great Country?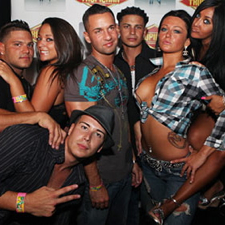 Because America needs another reason for the world to hate us, we are trying to deport our barely-literate Jersey Shore cast to Italy with a fleet of cameras, enough Ed Hardy t-shirts to outfit Sicily, and the only English-Italian dictionary that these greased guidos will ever need at the Naples club: Their Fists. But, wait -- one obstacle still lies between The Situation and his MTV-sponsored homeland pilgrimage.
The Italian government may not let the MTV cast and crew into the country -- because they have standards. And a strict no-smushing-on-camera policy. And they don't want America to think that they are responsible for breeding the kind of human beings who advocate steroid use and who get arrested on the beach while guzzling margs-by-the-meter in fuzzy slippers.
TMZ reports that the network is already scouting locations and finagling visas for the cast and crew for (what could be) a very special fourth season of the Jersey Shore. The network has even coordinated some sort of gaudy dinner hosted by Vinny's Italian relatives. So, yeah. Your move, Italian government. Are you going to allow Lost in Guido-lation: Italy's Self-Respect be filmed on your land? Fingers crossed.
· Jersey Shore Cast -- We're Going to Italy! [TMZ]