Team Jacki Update: We Need a Battle Cry. Any Suggestions?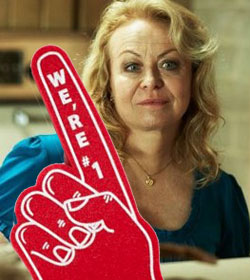 Longtime proponents of Animal Kingdom co-star Jacki Weaver were thrilled this morning to hear their hero's name announced among this year's five Best Supporting Actress Oscar nominees. And the Australian legend's warm if brief response has just come over the transom at Team Jacki HQ: "I'm elated to the point of euphoria. I feel like I'm in a walking dream. I'm so relieved that all those millions of Australians that wanted me to get this nomination aren't disappointed. Happy Australia Day." Aw! To you as well, Ms. Weaver. That said, this got serious today -- and we need more than press statements. We need a slogan; we need a battle cry.
Suggestions are more than welcome, but I'm kind of fond of adapting New York Jets linebacker Bart Scott's televised rant after last week's stunning upset win over the New England Patriots. And while the analogy here may be a slightly awkward fit -- the Jets, while fitfully competitive, were dispatched Sunday by the Super Bowl-bound Steelers -- it's the spirit of the thing that makes my spirit (and confidence) swell with every listen:
So, uh... let's see. "To all the Jacki nonbelievers! Especially you, Fox Searchlight! Way to have our back, Paramount! Anybody can be beat! Felt great! Poetic justice! We know we're a much better team, and we came up and represented ourselves. We're pissed off! All you nonbelievers, disrespecting us and talking crap about the defense! Helena Bonham Carter couldn't stop a nosebleed! See you at the Oscars! CAN'T WAIT!"
Something like that? I mean it's got to work for somebody eventually.