Sundance Sales Roundup: Remakes and Indie Acquisitions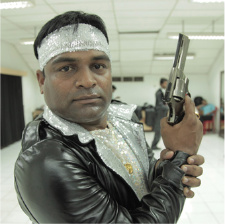 Besides Fox Searchlight's surprising acquisition of Martha Marcy May Marlene, high-profile sales at Sundance slowed some yesterday. There were a few pick-ups, including Ridley Scott's You Tube project and a New York Times documentary, but the bigger deals yesterday seemed to be for remake rights to documentaries. Danny McBride and David Gordon Green even got in on the action! Details on all of the business after the jump, including more Elizabeth Olsen.
REMAKE RIGHTS
The Film: Knuckle
The Studio: HBO/Rough House
What is it?: The team behind Eastbound and Down (Danny McBride, Jody Hill and David Gordon Green) will develop this doc about two Irish families who settle a longstanding feud by periodically engaging in bare-knuckle fistfights into a TV series for HBO. That sounds about right.
[Deadline]
The Film: The Bengali Detective
The Distributor: Fox Searchlight
What is it?: India's answer to Philip Marlowe! Fox Searchlight will remake this documentary about a private eye in Kolkata (where police corruption has led to a thriving private detective business) who, along with a team of associates, investigates everything from "counterfeit hair products to a brutal triple murder." In between investigations, the team rehearses a dance routine for a televised talent show. Sounds promising.
[Deadline]
ACQUISITIONS
The Film: Circumstance
The Distributor: Participant Media
What is it?: A wealthy family in Iran grapples with their daughters sexual rebellion, which as you may know, she really isn't allowed to have in Iran.
Release Date: Unknown.
[Deadline]
The Film: Life in a Day
The Distributor: National Geographic in partnership with You Tube
What is it?: Kevin McDonald and Ridley Scott asked people to submit footage of their everyday lives on July 24, 2010 via You Tube. After going through footage from 80,000 submissions from 192 countries, they came up with this 90-minute documentary.
Release Date: Unknown.
[Deadline]
The Film: The Ledge
The Distributor: IFC Films
What is it?: A thriller involving a love triangle, faith and what sounds like a Saw type dilemna on the ledge of a tall building. Liv Tyler, Terrence Howard, Charlie Hunnam and Patrick Wilson star.
Release Date: Unknown.
The Film: Page One: A Year Inside the New York Times
The Distributor: Magnolia Pictures and Participant Media
What is it?: Exactly what the title makes it sound like. Except the particular year this documentary examines is 2010, when print journalism started to really struggle.
Release Date: Later in 2011
The Film: Silent House
The Distributor: Liddell Entertainment acquired the rights and is working with CAA to set a U.S. distributor.
What is it?: A remake of a Uruguayan haunted house film from the directors of Open Water and starring Elizabeth Olsen. This one unfolds in one, single take. Found footage, say hello to the new horror gimick.
Release Date: Unknown.
[Deadline]