Nikita's Maggie Q Doesn't 'Give a Sh*t' About La Femme Nikita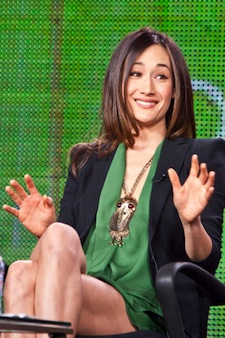 Maggie Q, the star of the CW's breakout action-drama Nikita, knows what she wants, and she's happy to announce that she gets it. The 31-year-old martial arts cinema vet moved from Honololu, learned her craft from Jackie Chan, became a star in Hong Kong, and co-starred in various TV shows, miniseries, and films before hitting stateside fame with Mission: Impossible III, Deception, and Balls of Fury. Now, with 14 years of fight choreography under her belt, the Nikita topliner is torqued for the future of her series -- especially because she has a specific vision of what the show should look, sound, and move like. It's a vision she reiterates frequently.
Movieline caught up with Ms. Q. (nee Margaret Denise Quigley) at the CW press tour last week. Though her CW colleague, Hellcats's Aly Michalka, came over to talk about how certain journalists were bothering her ("They keep asking me the same f*cking questions over and over again! I'm like really?"), Ms. Q. seemed thrilled by our queries and answered with refreshing candor. We chatted with her about Nikita's future, its astounding fight sequences, and pesky La Femme Nikita diehards.
One of the CW execs said your character was going to be more "relatable" in the future. Do you worry about that? Does a more relatable Nikita change the tone of the show?
Here's the thing. We're definitely on a network where this show is as dark as [the network's] ever gone. For me, I think the key to more "relatable" is basically this: finding out more about who she is. The only reason Nikita wouldn't be as relatable as someone simpler is because we don't know what her motivations are. We haven't really delved into Nikita's past, per se. There's a reason for that. Her past is long and sordid. So it's not like we can reveal her past in an episode or even a season. There's no way to do that. I definitely am a fan of as dark as we've been able to go on the show. I don't feel like I'm going to change her so much to make her relatable to people in a way that sacrifices her integrity. I don't think that's right. The writing's not lent itself, as I've seen, to making her softer or as you said, "relatable." I think the more we find about her, the more we'll understand who she is. But I like the big question mark! I don't want her to be a character who's completely understood. I think that's whole the fascination with her.
Do you worry about losing her mystique?
In a way. But in the way we're doing it, that won't happen. There's so many secrets. Some of them are going to be mind-blowing, and at the end of the season there's going to be another huge game-change.
The show has gotten pretty dark -- plenty of assassinations, yes, but grim dialogue, interrogations, and blackmail get their turns too. Are you surprised by the show's dark trajectory?
That's the only reason I took it. It was one of those things where, oh, "We're doing a game-change on the CW!" This is a show you wouldn't expect, number one, and number two, we've been actually kind of allowed to make the show we wanted to. The CW's been very supportive about that, which is another huge weight off our shoulders. I mean, if we try to "fluff up" Nikita? We're done. If we try to "fluff" Nikita, I don't want to be involved and I don't want to watch the show. If we maintain the mystique, the darkness, and maintain the richness of the characters and layer it as well as we should? And not have twists just to have to twists? And shockers that kind of go away? But real story fundamentals that change, that will really change you as people, as audiences. That matters to me.
You just did a press panel with some of your CW colleagues, and they called it "Kickass Women of the CW." No offense to them, but you clearly kick the most ass out of all of them. Do you relate to other female players on the network?
Yeah, not really. I feel like I'm doing this show and I really don't know what network I'm on. It doesn't relate to anything else they have on their networks. I'm just doing my thing! I'm bringing what I've always wanted: film quality work on television. That's the way it should be. Audiences are so much more sophisticated than they've ever been. They expect a lot more. I don't think because it's an hour of your Thursday night rather than an hour and a half of your weekend that you should be gypped at all in quality. It's a constant fight, always, and a good fight. I don't mean people are like, "I want to make something bad!" while I'm like, "I want to make something good!" But I'm challenging people in their creative space and saying, "Yes, that's good, but what about this? What about making this better? What about building on this?" That's constant. Constant, constant.
Your show is obviously based upon the French film Nikita and USA's La Femme Nikita, but do you still hear from anyone who's offended that the last show's legacy is being altered by what you're doing?
I don't now -- now that we've been on the air. In the beginning, there were certain people, like, "No, she could never be Nikita! Blah, blah, blah!" I didn't hear a lot of that, but I think what we're doing is something very different than has ever been done with this character, whether with La Femme Nikita or just Nikita. This is the future of Nikita. This is a Nikita we've never seen. This is the first time she's ever had control of her destiny. She's never had that in her life. She's been passed from one bad situation to another. Now that she's gone rogue, it's sort of like, "This is what you've put me through. Watch me. Watch what I'm going to do with you." That's a cooler place to be, I think. We're moving forward with her. I kind of don't give a shit about what anyone thinks of La Femme Nikita. It's done! Now that we've moved forward, I don't really know how anyone could mess with that.
The shows aren't really comparable anyway. La Femme Nikita was always courting a specific, cult-ish viewership -- even when it was a very popular cable drama -- whereas, somehow, there's more universality to this show.
No, no, this is mainstream. I was at the post office the other day, sort of in Beverly Hills. This woman with a great big bouffant and diamond earrings, who'd gotten out of a Bentley. Someone was driving her. She walks into the post office, and I smiled at her. She was at least 70. I said, "Can you believe there's no line at the post office?" And she said, "I know, I can't -- wait a minute. Are you Nikita?" That was the last thing I expected. This rich-ass woman in Beverly Hills. Seventy years old. "Are you Nikita?" And I said, "Yeah! How do you know that?" And she said, "Are you kidding? I watch your show every Thursday." I mean, I've been approached by kids, cops, white, black, Latino, 70, 17 -- so you're absolutely right. It's not a cult thing. The CW, as a smaller network, we don't get as much exposure as larger networks, but I think we're doing pretty good on that note.
We've seen plenty of throwback action series recently, including Hawaii 5-0. Do you ever feel swallowed up in a mass viewership's perception about these types of series? Maybe your show was misjudged at the onset?
I don't feel like we've been getting a lot of that, though I feel we could be subject to that. I feel like if you're doing it and doing it well, people can't really mess with you as much as they want to. In terms of action, I don't see our quality of action on any other show right now. I'm sorry. They may have bigger explosions, but our fights are genius. I have a choreographer who I've worked with on three different movies from LA who I brought to Toronto. I thought, "F*ck it. I want my guy. This is going to be the real deal." He did the Bournes and 300. This is somebody the show wouldn't have been exposed to had Nikita not been me. This is my genre, what I've been doing for 14 years. I know it well. There's a level of quality I will not let dip, ever, when it comes to the action. If you're putting that much into it and doing it well, I feel like whether you're a remake or throwback or not, people have to give you credit for the quality that's on the air.
Do you really feel you have that strong a sense of command when it comes to the show's action? You can sense when the quality's not what it needs to be?
Well, we had a coordinator -- a different coordinator -- up until episodes five and six. And, you know, it was me, I called it: I said, "He's gotta go. It's dipping. It hasn't dipped enough in a way that audiences have recognized yet, but it will. I know his style. He's not innovative. He doesn't have what it takes to take the show to the next level. And we're done. We're done here. We need to bring someone else in." I've been given a lot of trust in that department, which makes me really happy.