Late Night Highlights: Stephen Colbert Does His Keith Olbermann Impression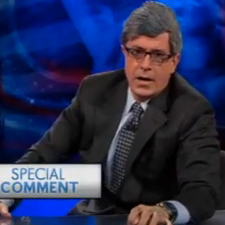 Stephen Colbert tried his best to absorb Keith Olbermann's essence Highlander-style on last night's Colbert Report, but found that his body rejected it like a pompous kidney. Elsewhere, Conan O'Brien sympathized with the former MSNBC pundit, Cory Monteith talked crashing a school bus and Jon Stewart challenged his staff to a Nazi-themed scavenger hunt.
4. Driving the Short School Bus
Last night, Glee star Cory Monteith told Jimmy Kimmel about the time he dropped out of school to drive a school bus...before he crashing it.