From Gigli to Oscar: Composer John Powell Reacts to His Nomination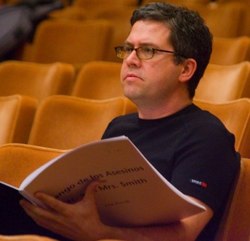 Today, John Powell, who has written the score for movies as diverse as The Bourne Ultimatum and Horton Hears a Who (and, yes, Gigli), received his first Academy Award nomination today for Best Original Score for his work on How to Train Your Dragon. Needless to say, it's been a long, strange road -- one that Movieline revisited with Powell after he received today's good news.
Congratulations on the nomination. I can only assume this is a long way from Gigli?
[Laughs] But, you know, I did my best on Gigli as I did on this one. And you sometimes... It's not fair to say that it was the filmmaker's fault for Gigli, but I'd say it's the filmmaker's fault for this being as good as it is. That's the thing: Sometimes you get handicapped, and sometimes you get a film that is just so good that I think it's actually hard to f*ck up the music.
Can you tell when you're doing the score that a film may not be up to par as opposed to a film like How to Train Your Dragon?
I'm not sure about the ones that don't, but you certainly know when they do. When the film is really good, it's such a sort of weird feeling because you know that you're getting inspired in a way that you're normally inspired, and you may have to force it on some other movies.
You've been nominated for a lot of awards before but not the Academy Award. What's this one mean in comparison?
Well, obviously, it means a lot. I called my aunt in England and, you know, I've been nominated for a BAFTA a couple of times before and again for this one. When I tell her I've been nominated for a BAFTA it's like, "Yeah, OK, that's very nice." Then when I told her that I was nominated for an Oscar she just went crazy. Obviously, in my role as a composer, you look back at the names that have been nominated and it's very exciting to be on that list. I'm not sure I am on that list.
Twenty years from now when we look back at this nominations list, your name will still be there.
[Laughs] And they will be like, "Who?"
Is How to Train Your Dragon your best work?
Well, you know, I honestly try and write an Oscar score every film. It doesn't matter what it is. I honestly tried on Gigli, I did. This was actually the first film I'd ever done with Jeffery Katzenberg; I've done a lot of films with him but always with Harry Gregson-Williams or with Hans [Zimmer]. So this is the first one in which I was flying solo, and I put a lot of pressure on myself, probably, but I really had to show Jeffery that I could do it myself, believe it or not. Even after all of these years. This time I thought that I really had to show him that I could do this on my own. I probably pushed maybe a bit harder. The thing about it is, if you can find a film that works as well as Dragon does, on it's own, honestly, without the music it's still a brilliant film. It didn't need that much help from me.