Fighter Producer Todd Lieberman Chats About His First Awards-Season Marathon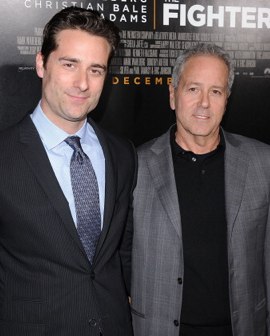 Just as The Fighter was a near-lock to earn Oscar nominations today, it's a near-lock to win at least one or two statuettes during the Feb. 27 ceremony. If you had predicted this eventuality six years ago when Todd Lieberman and his producing partner David Hoberman first undertook the project -- a troubled drama amid a development slate that included Beauty Shop and The Shaggy Dog -- the producers might have driven you to the hospital themselves. But those crowd-pleasing roots grew into the film The Fighter is today -- an awards-season juggernaut for Best Picture rookies Lieberman, Hoberman and star/co-producer Mark Wahlberg.
After hearing earlier from the trio's fellow producer (and principal Fighter financier) Ryan Kavanaugh, Movieline had a quick word with Lieberman about today's happy news:
How are you feeling right now?
Thrilled! Tired and thrilled. It's really kind of mind-blowing, you know? You set out to make a movie -- you set out to make a great movie -- and the movie turns out way better than you could have ever dreamed. After a multi-year journey, you get multiple Oscar nominations. It's pretty wild.
How long, exactly, was the journey for you and your partner?
Oh, it's been... about six years for me and David Hoberman, my partner (pictured above right with Lieberman). It's been a multi-year journey for Mark Wahlberg as well. The three of us have worked on this a long time together.
You've produced for a while but are fairly new to this whole awards game. How are you holding up in the marathon, and what do you anticipate going forward?
I'm enjoying it! I mean, this is a unique situation -- a unique opportunity -- and one that I may never encounter again in my life. So I'm doing everything I can to make sure I'm enjoying every moment of it. It's a lot, but you kind of have to sit back and look around and say, "Wow, you're in the middle of something historic." When I was sitting at the AFI luncheon and I was listening to Kirk Douglas speak, I certainly got a chill. And you realize you make movies for many reasons, and this one's touching a lot of different people. And when you're sitting in a room like that, having made a movie that's touch so many people, you're included on a list of movies that have touched a lot of people over the years. That's something.
Of course, Ryan Kavanaugh recently lost his Academy appeal to be added to the three producers who could receive Best Picture nominations. Has today's news got you thinking at all about that decision, or where Kavanaugh stands?
You know, I hadn't really thought about it. I don't know. Everyone had a job on this movie, and everyone along the way contributed something extremely important to this movie -- him included. The rules and regulations that govern who gets credit and who doesn't get credit, that's not for me to judge. I'm just happy our movie's being recognized.
Final, most important question: Who are you taking to the Oscars?
[Laughs] I guess I'll probably have to take my wife.
Ah. That is a very good call.
She'd be very mad at me if I didn't! So, yeah: The obvious answer would be her.