Director Lucky McKee Responds to His Irate Sundance Hater: 'Then Don't Watch It'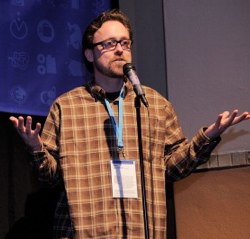 When Lucky McKee's Sundance horror entry The Woman premiered in Park City and promptly elicited walkouts, a panic injury, and one irate moviegoer's infamous YouTubed rant, some -- okay, Movieline -- wondered if it was all a stunt. (For a personal retelling of the shouting match that followed, read Drew McWeeny's firsthand account.) To set the record straight, Movieline went straight to the source for McKee's version of what went down when the credits started rolling.
Accused of misogyny and artlessness by his critics, McKee (May, The Woods, Red) mounted a convincing artist's defense of his film, about a feral woman captured by a sadistic family man, as difficult by design. "The stuff is dark and hard," he said, "but there's a catharsis I get out of doing it, putting it out there and sharing it with people like, 'Look, I see this stuff. Do you see it, too?'"
It's been a crazy few days, huh?
It's been pretty wild -- and crazy and disturbing, a mixture of all sorts of emotions.
Judging from reports of your Q&A and the post-screening video that circulated afterward, we were 80 percent sure that what happened was real. For the record, we have to ask: Was the infamous shouting angry man a plant?
No, absolutely not. If you had been there and seen my reaction to it, you'd see that it was genuine. For one thing I've been working on this for two years with a few collaborators. This stuff gets really personal after a while, then all of a sudden you're in a situation where you have to share it with 500 people. It's almost physically debilitating for me.
And that's just having your film premiere, not even with someone shouting at you.
Yeah, you put so much stuff in this and watch the audience, and obviously there are a lot of people walking out. And I knew that would happen, it's happened with stuff I've made in the past, so I get it. Some stuff is a little too much for some people, and there's stuff they don't want to confront. I was sitting there watching the movie, and the ending is pretty intense, and I saw this girl trying to get out of her row but the seats are so tight in that theater that she was having trouble getting out. She was getting kind of panicky and she walked right by me and heard this terrible sound. I got up and walked back there and this girl had really taken a bad spill, I guess she just fainted. I was like, "Stop the movie, somebody help this girl!" Nobody seemed to know what to do, and they didn't stop the film.
It was just so bizarre. But that was really concerning to me and it upset me. There are a lot of people who were like, this is great for publicity, this is great for the movie, but it's like, you know, she could have really hurt herself! So that really bothered me.
What happened next?
I went outside to have a cigarette and saw the emergency people showed up, and I told the volunteer to tell them where to go. I went back upstairs, and I was walking through the lobby and I saw this guy standing there with a lady and he was talking to himself. He was saying a lot of the things he ended up screaming in the theater, and on the video that ended up online. It looked like he was trying to work it up in his head; this is while the credits were running. As he was saying this stuff out loud -- "This isn't art, this is bullsh*t, what kind of a sick person would do something like that?" -- I just happened to walk right by him. And I introduced the film, so he knew who I was. Three steps behind me after I walked in he came in and made this big scene. I just went to my chair and wanted to crawl inside myself. It was awful, you know?
What drove you to make this brutal story, and why did it need to go as far as it did?
I know the movie's extreme and it deals with abuse, but for someone to say I'm condoning abuse and I'm condoning misogyny... I mean, these things exist in our world, and the whole point of me making this film was that I've been tagged as a horror director but had never felt like I'd really made a horror film. And I was like, OK, if you really want a horror film let's get into some really scary stuff, and let's not do it with monsters -- let's do it with people. For the audience, these people that you see doing these things look just like you, they talk just like you, and they mingle with you. That kid is a kid you went to school with, or that's a girl that you know. Maybe what it is, is that people have been abused and in rough situations in life -- which happens to just about everybody. It pushes those emotional buttons and it's just too much for their hearts and for their minds.
The idea of it is that it's supposed to get people to think about how they treat people, how they treat themselves. It's supposed to spark that sort of stuff in an emotional way, and it's supposed to scare you! There's nothing more scary than a f*cking human being. We do some pretty awful things, and the thing that's scary about it is we know what we're doing, we're conscious of it. That being said, it's not going to be for anybody. But I don't want to make stuff for everybody, I want to just make stuff I want to make.
You must have known going in that this film could be very divisive...
Yeah, and I know how people react to stuff that goes that deep and doesn't turn away when you think it should. It really is eliciting physical responses from people, which really kind of blows my mind. Just the right succession of pictures and sounds can do that to somebody, which says a lot about the art form.
Pages: 1 2