Razzie Awards: Which Film Overcame Mild Critical Acclaim To Lead the Nominations?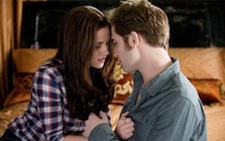 Here's your Monday morning break from all that prestige-picture news coming out of Sundance and Oscar-land: The Razzies have announced their official nominations for worst cinematic offenses of the year. As usual, they went with a number of easy targets including Sex in the City 2 and The Last Airbender...and a movie with a 67 percent fresh rating from top critics on Rotten Tomatoes that New York Times critic A.O. Scott called "robustly entertaining." Huh?
Oh, wait, It's Twilight Saga: Eclipse. Like I said, easy targets! But seriously, while there were a number of "fresh" reviews that damned that film with faint praise ("For the first time in the series I felt I'd seen a real movie." - Joe Morgenstern, The Wall Street Journal), it still seems like the teen-vampire melodrama was included more because people have so much fun taking shots at it and less because of the quality of the actual film. So here's my question: Do we really need a tongue-in-cheek awards ceremony to mock the same movies that everyone has already spent the better part of the year making fun of? After an entire year of watching the internet trash these films, it doesn't seem much fun at this point.
I'd be more interested if the Razzies branched out from the obvious pot-shots to include more interesting categories like "Best Performance in an Awful Film" (Blue Valentine, anyone?) or "Worst Scene in a Good Movie". As it stands, these nominations seem to get more bland and obvious with each passing year.
In any case, here is the full list of nominations for your consideration. Notable snubs include Yogi Bear and Grown-ups, the latter of which escaped with only one nomination. Place your bets!
WORST PICTURE
The Bounty Hunter
The Last Airbender
Sex and the City 2
Twilight Saga: Eclipse
Vampires Suck
WORST ACTOR
Jack Black / Gulliver's Travels
Gerard Butler /The Bounty Hunter
Ashton Kutcher / Killers and Valentine's Day
Taylor Lautner / Twilight Saga: Eclipse and Valentine's Day
Robert Pattinson / Remember Me and Twilight Saga: Eclipse
WORST ACTRESS
Jennifer Aniston / The Bounty Hunter and The Switch
Mylie Cyrus / The Last Song
Sarah Jessica Parker, Kim Cattrall, Kristin Davis & Cynthia Nixon / Sex & the City 2
Megan Fox / Jonah Hex
Kristen Stewart / Twilight Saga: Eclipse
WORST SUPPORTING ACTRESS
Jessica Alba / The Killer Inside Me, Little Fockers, Machete and Valentine's Day
Cher / Burlesque
Liza Minnelli / Sex & the City 2
Nicola Peltz / The Last Airbender
Barbra Streisand / Little Fockers
WORST SUPPORTING ACTOR
Billy Ray Cyrus / The Spy Next Door
George Lopez / Marmaduke, The Spy Next Door and Valentine's Day
Dev Patel / The Last Airbender
Jackson Rathbone / The Last Airbender and Twilight Saga: Eclipse
Rob Schneider / Grown Ups
WORST EYE-GOUGING MIS-USE Of 3-D (Special Category for 2010!)
Cats & Dogs 2: Revenge of Kitty Galore
Clash of the Titans
The Last Airbender
Nutcracker 3-D
Saw 3-D (aka Saw VII)
WORST SCREEN COUPLE / WORST SCREEN ENSEMBLE
Jennifer Aniston & Gerard Butler / The Bounty Hunter
Josh Brolin's Face & Megan Fox's Accent / Jonah Hex
The Entire Cast of The Last Airbender
The Entire Cast of Sex & The City 2
The Entire Cast of Twilight Saga: Eclipse
WORST DIRECTOR
Jason Friedberg & Aaron Seltzer / Vampires Suck
Michael Patrick King / Sex & The City 2
M. Night Shyamalan / The Last Airbender
David Slade / Twilight Saga: Eclipse
Sylvester Stallone / The Expendables
WORST SCREENPLAY
The Last Airbender, Written by M. Night Shyamalan, based on the TV series created by Michael Dante DiMartino and Brian Konietzko
Little Fockers, Written by John Hamburg and Larry Stuckey, based on Characters Created by Greg Glenna & Mary Roth Clarke
Sex & the City 2, Written by Michael Patrick King, Based on the TV Series Created by Darren Star
Twilight Saga: Eclipse, Screenplay by Melissa Rosenberg, Based on the Novel by Stephenie Meyer
Vampires Suck, Written by Jason Friedberg & Aaron Seltzer
WORST PREQUEL, REMAKE, RIP-OFF or SEQUEL (Combined Category for 2010)
Clash Of The Titans
The Last Airbender
Sex & The City 2
Twilight Saga: Eclipse
Vampires Suck