Lea Michele Didn't Mean to Almost Make Hailee Steinfeld Cry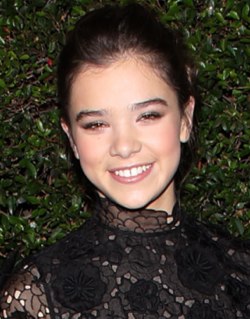 Attention, Americans: You can sleep again. Less than three weeks after it was revealed that Glee star Lea Michele blew off True Grit's Hailee Steinfeld to such a harsh degree on the Paramount lot that the blingatude-y youngster almost cried, it appears one of Hollywood's most adorable burgeoning feuds has been put to bed. With dessert even!
You'll recall that Hailee told J-14 magazine about the harrowing incident:
I saw Lea Michele just walking to her trailer, and I was like, 'That's the girl from Glee. I've got to go ask for her autograph!' So I walked up to her and asked for her autograph, but she walked by and a guy came and said, 'Sorry, now's not a good time!'
As it turns out, that "guy" was mostly at fault, and Michele didn't know what was even happening. "I heard Hailee was upset and feel terrible," Lea told Gossip Cop. "The Glee schedule is so jam-packed that the PA probably pulled me so that I wouldn't be late to set. I never meant to hurt her feelings. She's an extraordinary talent and I look forward to meeting her one day."
That's good enough for Hailee, who told MTV that it was just a case of "bad timing." Or maybe not. "I was so embarrassed because of what I was wearing. The only thoughts that were going through my head were, 'Oh my god, Lea Michele thinks I'm a total freak.' Everything is totally fine though." It sure is, Hailee. Just don't expect to get a guest spot on Glee; you do not call out Lea Michele in a public forum. Even if it's the PA's fault.
· Hailee Steinfeld Says 'Everything's Fine' with Lea Michele [MTV]