Kevin Smith Debuts Red State, Maybe Goes Insane
Striding onto the stage before a sold-out crowd at the Eccles Theatre on Sunday night at the Sundance Film Festival, Kevin Smith channeled legendary hucksters like P.T. Barnum, William Castle and Samuel Z. Arkoff when his promised open-bidding for the distribution rights to his new horror film Red State turned into Smith's announcement that he would take the movie out himself under his new SModcast Pictures banner. (Not that you should be clamoring to see it, but one thing at a time.) Playing the hype game, which turned Sunday's screening into the must-see event of the festival thus far, was clearly intended to prove that he's learned a thing or two about putting butts in seats himself.
Holding the last hockey stick used by Wayne Gretzky before he left the Edmonton Oilers to come to Los Angeles -- Smith said it symbolized the end of one thing and the beginning of something else -- the director of Clerks and Chasing Amy quoted Gretzky's father Walter, who told his son, "Don't go where the puck's been; go where it's gonna be."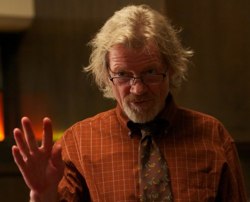 And the traditional paradigm of film distribution, per Smith, is apparently where the puck's been. Rather than sell his movie off to the highest bidder, Smith himself won the auction with 20 bucks. His plans are to take Red State on the road, city-by-city, charging premium prices at large concert halls (beginning with Radio City in New York on March 5); the events will include live appearances by Smith and actor Michael Parks (right), who stars as a Fred Phelps-esque fundamentalist preacher. The film will have a traditional theatrical release on Oct. 19 -- the 17th anniversary of Clerks' opening.
In a lengthy speech, Smith decried the fact that studios spent four or five times a film's original budget to get the movie into theaters, with none of that money going back to the creator. (Hollywood accounting, per Smith, meant that it took seven years for his micro-budgeted debut Clerks to recoup.) Since Smith's "SModcast" network of podcasts has taken off online -- he says the two most popular shows pull in audiences of about 300,000 people per week -- and since Smith's successful "Evening With" shows fill up venues like Carnegie Hall and the Sydney Opera House without advertising, he plans to use the same approach to releasing the movie.
Whether or not Smith's plan works -- one blogger says the new plan turns Smith into "the Henry Jaglom of his generation," referring to the auteur who four-walls all of his own movies -- his speech at Sundance drew immediate controversy, as he basically dismissed all movie studios as thieves. (Smith did acknowledge how much he'd learned about the business from his early champion Harvey Weinstein, and as recently as last week, his producer Jonathan Gordon vowed to find a distributor who "loves the movie, understands it, knows how to handle it and get the most out of it.") Smith also reiterated that he doesn't plan to do any press for Red State, which raised hackles among the blogosphere. Collider.com tweeted that after it posts its Red State review, it will no longer cover his work.
Smith also announced that his next movie, Hit Somebody, will be his last. After that movie, he says, "I want to distribute yours," explaining that he hopes his low-budget, prints-but-no-advertising style of distribution can welcome other filmmakers into the fold.
Whether or not Smith is a visionary or a lunatic remains to be seen, but the real sticking point is that Red State doesn't represent his best work. An ambitious attempt to break away from comedy, the film is a well-acted mess, fusing together a horror movie with a Ruby Ridge-style government conspiracy thriller and extended shootout. At this point, however, it appears that Red State may wind up being just a footnote of this new chapter of Smith's career and, if his predictions hold true, a new chapter of fiscally-responsible indie film distribution.
[Photo: Getty Images]