DVD: Why Paper Man Might Be the Ultimate Insufferable Indie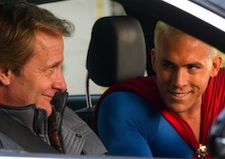 The 2011 Sundance Film Festival kicks off today, and this prestigious annual event has yielded dozens of essential indies over the years, from sex, lies and videotape to Poison to The Kids Are All Right. But let's not forget that the last few decades have included countless twee, precious, and generally irritating indies for every great one. Which brings us to Paper Man (out on DVD this week from MPI Home Video).
Oddly enough, this film never actually played the Sundance Film Festival, but it was developed at the Sundance Institute (I remember thinking, "Well duh," when that credit popped up at the end). That said, it certainly feels of a piece with many Sundance groaners of years past. While I have high hopes for the crop of titles at this year's festival, here's a list of Park City clichés that this squicky dramedy boasts:
· It's about a middle-aged white guy with problems, specifically writer's block. He also refuses to grow up and is haunted by his past. Oh, and he has conversations with an imaginary friend, specifically a superhero.
· The cast mixes actors with indie cred (Jeff Daniels, Lisa Kudrow), up-and-comers (Emma Stone, the best thing in this movie, has gone on to bigger and better things), and a handsome mainstream movie guy hoping to get indie cred (Ryan Reynolds, whose turn as the imaginary superhero is so stilted that Green Lantern can only be a step up).
· It's set in a beach town during the winter.
· The soundtrack features sub-Iron & Wine guitar noodling with mumbled vocals.
· Two quirky outsiders whose paths normally wouldn't cross change each other's lives.
· It's neither particularly dramatic nor remotely funny.
· And finally... a key emotional climax involves the destruction of property and/or one's own art and/or a reminder of the past.
Happy Sundance, everybody! Let's up this year's fest brings us as few of these clichés as possible.