Late Night Highlights: Betty White Takes (and Spits Up) a Birthday Shot with David Letterman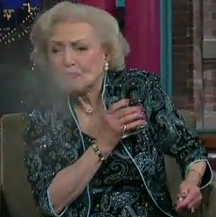 Last night, Betty White celebrated her 89th birthday with David Letterman and a shot of vodka, which she quickly spit up. Elsewhere, Jimmy Fallon and the Roots performed with Steven Tyler, Regis Philbin celebrated his impending retirement, Larry King parodied himself, and Stephen Colbert promoted a new Slanket competitor, the Coma Cozy.
5. Regis Retires
Regis Philbin celebrated his retirement announcement by calling into The Late Show with David Letterman.