What the BAFTA Nominations Can Tell Us About the Oscars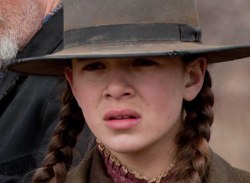 The nominations for the 64th annual BAFTA Awards were announced this morning, and on the one hand, it's true: The BAFTA nominations don't mean anything with regard to the Academy Awards. Different voting bodies, different interests, different cultures, and even different release dates should confirm as much to anyone with so much as a casual interest in awards season. Nevertheless, there are a few red flags among today's citations -- not to mention some recent BAFTA/Oscar history -- that demand attention.
1. Hailee Steinfeld is on the Best Actress bubble.
I'll get a little more into this in tomorrow's edition of Oscar Index, but Steinfeld's nomination as Best Actress is less a consequence of Blue Valentine just having opened in the UK (and Rabbit Hole not on the slate until February) than the groundswell of industry observers who want her recognized for her contribution as True Grit's lead actress. There's precedent here for presaging the Oscars, most recently in 2008, when Kate Winslet was dual-nominated in Actress for Revolutionary Road and The Reader. The latter occurred despite the Weinsteins' Stateside efforts to plant Winslet in Supporting Actress; Paramount and Scott Rudin are doing the same for Steinfeld. The Academy literally cannot react to the nominations -- ballots were due last Friday -- but the BAFTA noms imply a general sense among awards voters that a role is what it is no matter what the marketers and pundits say.
2. The supporting categories are huge.
Since 2006, the winners of both Best Supporting Actress and Actor have gone on to claim the same prizes at the Oscars. Again, some of this is attributable to release dates (Animal Kingdom, for one, opens next month in the UK), but when you see Amy Adams favored over Melissa Leo (to say nothing of national darlings Miranda Richardson and Lesley Manville) and Barbara Hershey chosen instead of Mila Kunis, history alone forces us to ask: Are we in for some Kodak Theater upsets, or is this going to be 2005 all over again, when Thandie Newton claimed a Supporting Actress BAFTA while eventual Oscar-winner Rachel Weisz wasn't even nominated? Leo may not be too concerned this morning, but you can bet Kunis is, especially with Hershey and Jacki Weaver holding their ground.
3. The Coen Brothers are probably screwed.
Not landing in contention at the Golden Globes is one thing. But a DGA snub (in favor of David O. Russell) paired with a BAFTA snub (in favor of Danny Boyle) is something else altogether. Box office flourishes aside, there's just no heat behind them. To me, today's news pretty much crystallizes the Oscars' final five as O. Russell, David Fincher, Tom Hooper, Darren Aronofsky and Christopher Nolan.
4. No one is going to beat Colin Firth.
More history! Firth is already a runaway favorite to win the Best Actor BAFTA, which would make him the first back-to-back film winner (he was victorious last year for A Single Man) since Rod Steiger in 1967-68. Steiger, too, earned Oscar nominations for those roles in The Pawnbroker and In the Heat of the Night, ultimately winning for the latter. Call it coincidence or whatever, but the odds are the odds.