Mary Murphy on Returning to So You Think You Can Dance and Whether She Watched Last Season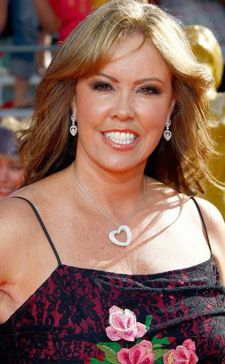 While last season of So You Think You Can Dance brought us the verve, artistry, and passion we've long expected of TV's finest reality competition, it lacked that locomotive of chutzpah and love named Mary Murphy. The 52-year-old ballroom champ and choreographer lends a professional, yet maternal conviction to a show that thrives on supportive energy -- and better yet, she's an addicting presence on the judges' panel. Last week, Fox announced that Murphy would return to the show for its eighth season this summer, displacing Mia Michaels and rejoining Nigel Lythgoe and Adam Shankman. Phew, y'all.
Movieline caught up with Murphy last week to discuss her plans, her recovery from harrowing throat surgery, and the legacy of So You Think You Can Dance.
You're back and I'm thrilled! How does it feel?
Thank you! I'm feeling really, super good. I'm pretty much dancing in my seat. I've done one audition city already. I'm doing good! I like it! I love this show. I've been on every show except last season. To be back and signing a three-year contract? I'm thrilled.
Did you watch last season?
Honestly, I could not. It was a little hard for me. I saw a couple. I think [this season] you're going to get the best of both worlds. There were a lot of people disappointed with the format, so it is going to be 50/50 [old format and new]. We're going to go back to the first half of our first format. We're going to invite 20 contestants instead of 10, and then you're going to have the all-stars come in at the Top 10. Everyone will get what they like. It's going to make a lot of people happy!
Can you describe your first day back on the job during auditions? How did it feel?
It's like it never happened, or like I'd never even gone. It made me feel really great in New York -- they announced my name, the kids didn't know I was there, and they just went ballistic. It just made me feel good. I'm a dancer, and I love what the dancers have done on this show. They know I come from a place of compassion and care. I certainly know it's very difficult what they're doing. They also know that if I don't love something, I'll tell them about it. I won't just dog them -- I'll tell them what they can do to fix it.
The show's been on close to six years now. People have grown up watching you at this point. You must think about the show's legacy a lot.
Well, just think, there are so many people who've grown up or are growing up to this show. The fact that I've got four-, five-, six-year-olds tugging on my coat, saying, "I want to be on So You Think You Can Dance!" It's great. Eight years ago I'd have one young couple, let's say seven or eight years old, dancing in ballroom. Now I have 26 teams paired together and competing in national dance competitions. I mean, So You Think You Can Dance has changed the course of dance in this country and around the world. Dancing with the Stars should take some of the credit.
Except we both know So You Think You Can Dance kicks its ass.
In the dance industry, So You Think You Can Dance has changed everything. It's changed the way we think about a dancer being marketable. Now people can have different things on their resume. Years ago, we were segregated. The ballet world was in their world. The ballroom dancers wouldn't look at the hip-hop dancers. A ballet dancer would turn their nose up at a ballroom dancer. Now we have this mutual respect, because we know each style is not easy. It doesn't need to be like that. Now we see so many ballet studios that offer everything, like hip hip, salsa, flamenco. It's all because of So You Think You Can Dance. Who knew? I'll be honest with you: Eight years ago I thought, "This is going to be a trainwreck. There's no one who can switch styles in five and a half hours -- and do it respectably? It's going to be a comedy show." That's honest to God what I thought. But man, that first season. So surprised. So many amazing dances and memorable numbers.
Which contestants do you still think about?
It's no secret that I was a huge fan of Brandon [Bryant, season five]. I think he was obviously underestimated by a couple judges who didn't even want him in the top 20. I think Jakob [Karr, season six] will be a memorable contestant. I think Hawk and his hummingbird number will always be remembered. I think Travis Wall [season two] will always be remembered. And from season one -- those were some of our biggest numbers, yet so many people I meet on the streets don't remember season one. Blake McGrath has gone on to be a judge, choreographer, and artist in Canada. I choreographed for that young man in season one. I just love the fact that these dancers are branching out and there's some place for them to go. Usually it had to be a hobby instead of a way of life. Now there are more dance movies, more dance commercials, more dance videos than ever in the history of the world. Everywhere you go -- even when I go to other countries -- it's the same there too.
What I love most about SYTYCD is the resounding positivity. So many reality shows bank on mean judging, and you guys manage to be realistic and compassionate. Did you all think such a style would work early on?
Well, early on, there was quite a lot of "hammer down" on some contestants. That did not go over well. I think with all of us there, most of us are past dancers. Most of us learn from a place of positive reinforcement as opposed to this degrading "I'm going to break you down and build you back up because I'm the one that can do it" style.
You've come back from cancer and throat surgery and had more than a year off. Will we see a different Mary Murphy this year?
After something like that where I was told I may never speak again, I couldn't be happier about all this. Now, whether I'll be able to scream again -- I tried and I can't right now. Hopefully I'll get it back by summertime!
In the meantime, it must bother you!
I can't help it! Yes. I'm a huge football fanatic, and I grew up screaming with my family at football games. I'm still a football fan, and one of my number one shows is Sportscenter. I can't contain myself! I just saw one of the best collegiate games ever, between Oregon and Auburn. I was beside myself. I felt like I need a little horn or something beside me because I couldn't scream.
Lastly, SYTYCD brings on such fun guest acts. What special guests would you like to see hoofing on the stage during result nights?
As far as dancers coming in and guesting, I'd love to see for the first time the children of ballroom dancing. They featured some of their talented children on Dancing with the Stars. We featured on So You Think You Can Dance a young breaker boy. We've still not shown our seven-, eight-, nine-, ten-year-old ballroom dancers that are off-the-charts fantastic. I'm actually hoping for that to happen more than anything.