Late Night Highlights: Jay Leno Offers Ricky Gervais Some Golden Globe Advice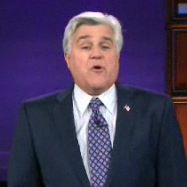 Last night, Jay Leno used his Tonight Show platform to offer Hollywood's currently most-hated man Ricky Gervais some free advice on award hosting. Elsewhere, Jon Stewart commended the daring comedian, Seth Rogen shared a tragic tale about porn, George Lopez outed himself as an online porn addict and Steven Tyler talked about snorting insomnia medication.
4. Stephen Tyler's Snorting Secrets
The former Aerosmith star and new American Idol judge told David Letterman about his latest foray into addiction with an unlikely drug.