J-E-T-S, Jets, Jets, Jets: The Weinstein Brothers Have Their Priorities Straight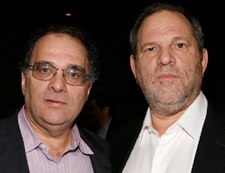 Tensions were running high at Movieline HQ in the lead up to our Golden Globes liveblog on Sunday night, because there stood a chance that the NFL playoff game between the New York Jets and New England Patriots might run past 8 p.m. on the East Coast. Naturally, we planned to flip over the Globes (or at least that's what we told everyone), but it appears Harvey and Bob Weinstein had a different idea.
The brothers were in a hotel room watching the game and refused to leave for the Globes until it was over -- which was a problem since all attendees had to be at the Beverly Hilton Hotel at 4:30 p.m., sharp.
"There was no way I was going to miss a minute of the game. I've waited 43 years for this," Bob told Page Six about the Jets big victory. Thankfully, their fandom didn't cost them anything; Bob and Harvey were able to make the Globes on time. "We had to rush, but we just made it. It was worth it." No truth to the rumor that the Weinsteins are looking to option the story of Fireman Ed for their next big Oscar contender.
· Jets Over Globes [Page Six]