George Lucas Believes in 2012, For Real, Says Concerned Citizen Seth Rogen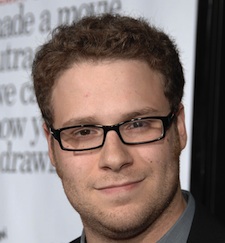 If you're a celebrity who owns a fantastical ranch full of spaceship paraphernalia, chances are you have a passing relationship with reality, anyway. Unfortunately, it turns out George Lucas and reality are barely even acquaintances, as Seth Rogen just revealed that Mr. Lucas allegedly holds a sincere belief in Mayan apocalypse lore. Funnier yet: Steven Spielberg is pretty annoyed about it.
In a new Toronto Sun article, Rogen explains that a meeting with Lucas and Spielberg soured once the subject turned to Mayan calendar drama.
"George Lucas sits down and seriously proceeds to talk for around 25 minutes about how he thinks the world is gonna end in the year 2012, like, for real. He thinks it.
"He's going on about the tectonic plates and all the time Spielberg is, like, rolling his eyes, like, 'My nerdy friend won't shut up, I'm sorry...'
"I first thought he (Lucas) was joking... and then I totally realized he was serious and then I started thinking, 'If you're George Lucas and you actually think the world is gonna end in a year, there's no way you haven't built a spaceship for yourself... So I asked him... 'Can I have a seat on it?'
"He claimed he didn't have a spaceship, but there's no doubt there's a Millennium Falcon in a garage somewhere with a pilot just waiting to go... It's gonna be him and Steven Spielberg and I'll be blown up like the rest of us."
Jar-jarring stuff. But, not so surprising, right? I'm sure he sleeps in a Brian Wilson sandbox full of moon rocks, too. Authenticity is important in a sci-fi auteur!
Rogen stunned by Lucas' 2012 theory [Toronto Sun]