Movieline's Giving Away Tickets To See Jane Fonda In 33 Variations!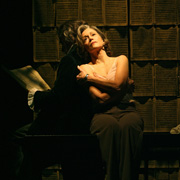 Good news for any Los Angeleno readers who saw medical marvel and veteran actress Jane Fonda present at Sunday's Golden Globes: Movieline and Center Theatre Group are giving away tickets to see the two-time Oscar winner's triumphant return to the stage in Moisés Kaufman's 33 Variations.
Fonda stars as a Beethoven scholar driven to solve the genius' greatest mystery while her own life crumbles around her, in a performance The New York Times' Ben Brantley calls "elegant, heartbreaking, and fierce."
Enter here to win one of 15 pairs of tickets today through Jan. 29th!
For more information on the show, click here.
Photo by Joan Marcus.