Happy Endings' Casey Wilson on Remembering SNL and Her Bravo Housewives Spirit Animal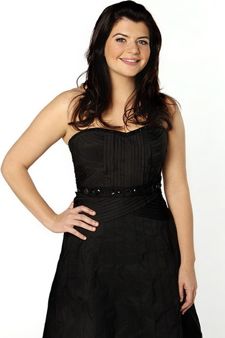 Casey Wilson's two-season career on Saturday Night Live concluded abruptly, but since she exited Studio 8H last year, she's proved herself a viable sitcom draw: The 30-year-old writer/actress picked up a recurring role on TV Land's upcoming Retired at 35 and a starring role on ABC's newest ensemble comedy Happy Endings, which kicks off in April. We caught up with Casey last week at the TCA winter press tour in Pasadena.
What have you learned from the sitcom world so far?
I've learned you should sleep with all your cast members. I mean really go at it, hard. I've learned a lot -- it's so different from the sketch world. The hours are just as long, but I've learned it's great when you don't have to write the show yourself. On Saturday Night Live, you wear so many hats there. You're the prop person, the actor, you're everything. It's been great to have a great writing staff and just show up and play my role as an actor. It's like camp.
Is it difficult to suppress the jack-of-all-trades instinct?
No. I can never turn my creativity off. But I mean, it's fun. I write with my writing partner June Raphael on my side, and it's been amazing to do both [the show and other projects]. I keep my head in important things, like this UCB theater show called The Realest Real Housewives where I've taken scripts from the beloved Bravo franchise and I act them out word for word. So I'm doing important work on the side, taking time to really give back.
Which housewife is your spirit animal?
My spirit animal is Alexis the Christian from Real Housewives of O.C.. Kelly Bensimon is my spiritual demon, I guess. And I'll always give it up for NeNe from Atlanta, because I love her.
I think there's a resounding sense of injustice about your departure from SNL. Do you get random support wherever you go?
I do! It's very funny. I'll be somewhere at a bar, and people will come up to me and say, "You were robbed!" It's very cute and very sweet. I think it's hard on the show because if you don't connect with America immediately, you also get the opposite -- a lot of hate coming at you. But then I think when I left the show, I don't think I had a full shot to show myself. That said, I'm so happy that I did it. It was a wonderful experience. There's a "You go, girl" spirit that I really appreciate and am touched by.
Has your experience there soured you to sketch comedy at all?
Oh, not at all. It doesn't sour me. If anything, I think, "Why would I pursue sketch comedy having had the national platform to do so?" It's good to move onto something else.
What kinds of comedy would you like to see more of?
I want to see a ton more comedy for women. My writing partner and I really only will write female-driven comedy. We just wrote and starred in a road trip comedy called Ass Backwards this summer. It's a R-rated, off-the-wall road trip comedy. We wrote Bride Wars obviously, but we're working on a movie called The Bachelorette about five women going crazy at a bachelorette party, which is just fun. Though I'd like to see more comedies for women that aren't so wedding-centered, but just fun, good comedies -- the way Elf for Will Ferrell was big, but it wasn't romantic necessarily.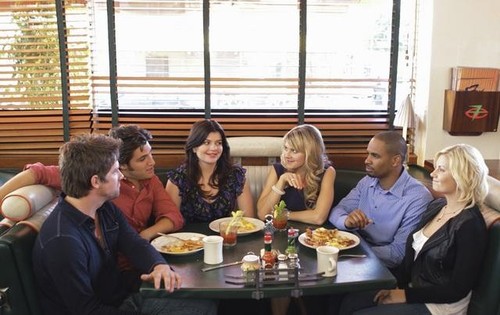 Do you have ambitions to write for TV? Sitcom stuff?
I think I would if my writing partner and I could together. Right now she's doing a show on Adult Swim and I'm doing Happy Endings, so for now, we're sticking to movies and trying to get movies for women made.
By this time I'm sure you've met a bunch of your heroes. Who's lived up to their legend most?
Well, obviously, the first SNL I did, the host was Tina Fey. Right out of the gate. I could've left the show then and have been happy. It was so wonderful to meet her and be in sketches that she wrote, just on that first show. She was wonderful to me, and that was hugely inspirational to me. I also met -- and she is a writer, but she's more of a comedian -- Catherine O'Hara. I've had the opportunity to work with and become friends with her. The fact that we kind of connected on this, I felt, cosmic level was amazing. I'm sure she was like, "All right. I get it. You like me." But that was amazing. The woman I'd want to meet the most is Nicole Holofcener. I've loved every single film she's done. I think her films are deeply comedic while being deeply disturbing and dark.
Should we expect more disturbing and dark material from you in the future?
That's kind of what Ass Backwards is about. It's about women who are so messed up they're just completely backwards. It's hugely comic but also very dark. One of us [pretends to be] a business women but is really selling her eggs for money. You know, disturbing! Funny, but also disturbing.
Do you miss your SNL costars?
Of course. I miss all the writers and all the cast. I loved working with Kristen Wiig so much, and I keep in contact with pretty much all the cast. I miss the ensemble energy, but I think Happy Endings has been great since I'm a part of another ensemble in a new way. I think it's more tight-knit on a sitcom as opposed to an environment where you are literally competing for time.
Preview your character Penny's arc on Happy Endings for us. What can we anticipate from her?
She just keeps getting funnier and better. [Laughs.] I think she continues to try to find love and continues to not find love. So that's a circular arc. The arc of life.