Help Decode The New Still From The Hangover 2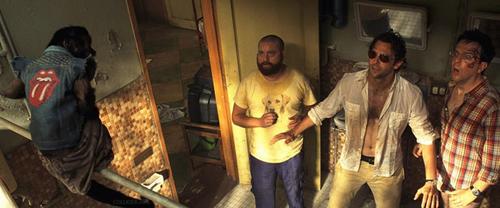 Warner Bros. just released the first official picture from The Hangover 2 and like a mysterious Renaissance portrait, it appears to be laden with a bunch of clues and hints about the new movie. We'll have to go full Da Vinci Code on this one. Check it out after the jump!
We've got our three heroes alone again, so does that mean that Justin Bartha's character has once again gone missing? And there's a monkey wearing a Rolling Stones jean vest (as they do) that the guys have cornered -- in fright? or do they want something from the be-denimed monkey? Zach Galifianakis has his head shaved but his trademark beard intact, while Ed Helms appears to be sporting a Mike Tyson-esque face tattoo. Layers upon sweaty layers! What do you think, gentle readers?