Who is Likeliest to Recreate Classic Golden Globe Moments This Sunday?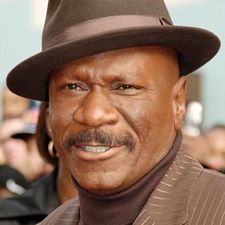 Say what you will about the Golden Globes, but its history is peppered with astounding TV moments. Is there a chance that winners/presenters at this Sunday's ceremony can recreate the Globes' three best moments? Let's figure out who's likeliest to match the Hollywood Foreign Press's finest times this Sunday.
Christine Lahti's Post-Bathroom Sprint
What happened: The Chicago Hope star was in the bathroom when she won the 'Best Actress in a Drama' trophy. After a friend ran to get her, the actress ankled toward the stage holding a wad of tissue to give a marvelously self-deprecating speech.
Likeliest to recreate: Kyra Sedgwick. Though she picked up a surprise Emmy for The Closer in September, another win at the Golden Globes would astound home viewers and probably Sedgwick herself -- who I expect to enact Footloose choreography as she jives out of the ladies' room.
Elizabeth Taylor's Befuddled "Best Picture" Presentation
What happened: In a bit of harried confusion that matched her performance in Who's Afraid of Virginia Woolf?, Elizabeth Taylor presented the 2000 award for "Best Picture -- Drama" to Gladiator. She had trouble reading the teleprompter, almost opened the envelope early, and she read the word "gladiator" with a crescendoing squeak. Perfection.
Likeliest to recreate: Diane Keaton's a favorite presenter at the Globes, and often she's the giggliest, liveliest figure in the room. Put on a jaunty blazer on her and let her read off The Social Network's victory with hilarious "chatty hands" gestures.
Ving Rhames's Tearful Handoff to Jack Lemmon
What happened: The commanding Mr. Rhames's performance in HBO's Don King: Only in America won him the Globe for "Best Actor in a TV Movie." After he approached the stage, he said -- in a fit of emotion -- that he believed "that being an artist is about giving" and handed his award off to losing competitor Jack Lemmon.
Likeliest to recreate: I'm going with Lea Michele. The starlet seems like she's waiting for academy recognition, and there's a chance a dais triumph could send her into an unprecedented lachrymose attack. At that point, she'll likely turn to Toni Collette, marvel that she plays "all those gosh-darned personalities" and hand off the award in a moment of positively anti-Rachel humility.