Spider-Man: Turn Off the Dark Actress T.V. Carpio: 'I Wouldn't Do It If I Didn't Feel Safe'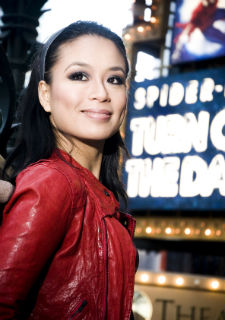 Just weeks after stepping into the lead female role in Julie Taymor's highly scrutinized $65 million musical Spider-Man: Turn Off the Dark, T.V. Carpio is already collecting compliments for her performance as Arachne, a role for which she replaced original cast member Natalie Mendoza following the string of highly publicized accidents and delays that rocked the Broadway community. Movieline spoke exclusively with the film and stage actress today -- not long after the news hit that Spider-Man's opening date will be postponed, yet again, to March -- in a wide-ranging career-tracking conversation that will be posted in full soon. For now, hit the jump to hear what Carpio had to say in response to Spider-Man's critics.
While Carpio can't comment for the show's producers, who had the ultimate say in pushing the show's official opening from Feb. 11 to March 15, Carpio explained that castmate Chris Tierney's recent injury and other cast reshuffles, including her own, are reasonably to blame.
"There were all these things that happened and we had to put in covers [understudies]," Carpio said, "whether it was for me or for Chris [Tierney], who fell and who needs three people to cover him. We basically have to sacrifice time to take safety precautions for the new people who are coming in. There were five people: me, Alice [Lee], the girl who now plays Miss Arrow, and three guys who took over Chris' part until he comes back. So we had to make sure. There's a lot of flying involved, and you have to take the time. You can't force these things."
Asked about the safety precautions being taken by Taymor and Co. to protect the performers, Carpio expressed full confidence.
"I wouldn't do it if I didn't feel safe. And we're so close to the crew," she said. "People have probably heard this a million times, but this crew is amazing -- they really do look after us. Not to minimize the things that have happened, but for instance, when I was in Rent I got a concussion. Nobody knew about it because Rent's been around for 11 years, but a week after that my cover got injured doing a similar move. And if you've ever seen Rent, it doesn't have all this flying stuff. Again, not minimizing, but these things sort of do happen. And the things that did happen on this particular project were not flying things. I think people don't realize it's human error.
"I'm not worried about all the flying stuff," Carpio continued. "It's the little things that you forget. It happens all the time, but you don't hear about it. This is such a high profile show... There are things that might happen; we all know that. But I'm not worried. I feel so taken care of. I do feel safe. From what I've been told from the stunt coordinator, he said, 'Those guys that messed up on that day, I would trust them with my life.'"
Check back closer to the show's opening for the full Movieline Interview with T.V. Carpio, in which she dishes on her unsatisfying experience on Law & Order, her history with director Julie Taymor and Spider-Man: Turn Off the Dark, and her upcoming film, Limitless.
[Photo: Broadway.com]