See Jets/Patriots Rivalry Envisioned as Star Wars
Let's get this out of the way upfront: The rivalry between the New York Jets and the New England Patriots will never be a pimple on the fanny of the rivalry between the New York Yankees and Boston Red Sox. That said, any competition that features two arrogant personalities like Pats coach Bill Belichick and Jets coach Rex Ryan is one that should be taken very seriously. Or turned into an excuse for the New York Post to commission a Star Wars parody. Obviously. Ahead, take a look at the marvelously absurd cover for the Jets/Pats pullout section from Friday's Post. May the force be with you.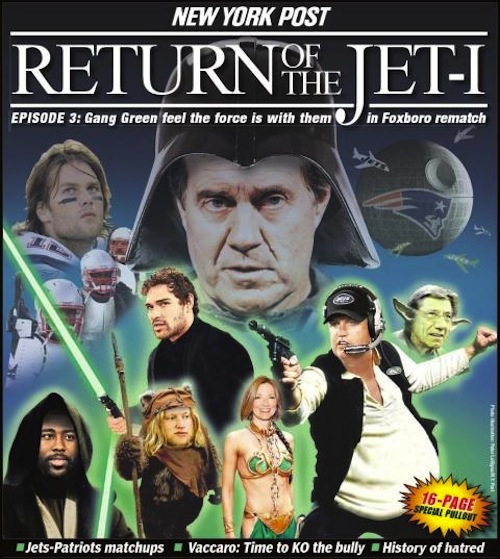 JOE NAMATH AS YODA! Ahem. The Photoshop work done to make Rex Ryan into Han Solo is brilliant; the Belichick-as-Darth Vader, not so much.
[via Deadspin]