Mindy Kaling on The Office, Parodying Taylor Swift and Her 'Bossy' New Book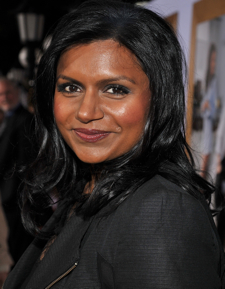 If there is one person that could succeed Tina Fey as Hollywood's Queen of Comedy, it's Mindy Kaling. The Dartmouth graduate -- who plays, of course, Kelly Kapoor on The Office -- is an Emmy-nominated writer, with credits on 18 episodes of the NBC series, plus the writer/director and star of the show's spin-off web series, Subtle Sexuality. Oh, and on top of that, Kaling co-stars in the upcoming Natalie Portman rom-com No Strings Attached, is searching for directors for her own romantic comedy (co-written by fellow Office scribe Brent Forrester) and is feverishly writing her first book The Contents of My Purse for Random House. Just a few things.
Thursday night at the NBC TCA party, Movieline caught up with the busy multi-hyphenate to discuss her many projects, her time crunch to find a date for the Golden Globes and Ashton Kutcher's on-set generosity.
Hey Mindy. First of all, I love your dress.
Thanks. Actually it's a skirt and a top but I feel like maybe I'm a little too conservatively dressed. This seems like an event to show skin. I just saw Angela [Kinsey] and she looked smoking hot.
I miss your blog Things I've Bought That I Love.
I'm sorry. I'm on Twitter but it's hard to hawk things in 140 characters. And I'm busy. I'm writing a book now.
How are you enjoying the literary process? Did you find that it was an easy transition from the television and film writing
Yeah, I love it. It is different though. [My book is] short essays and comedy pieces. Some are a page. Some are a couple sentences. Some are two pages. That kind of thing.
What are some of the subjects you discuss?
Well, the titles of each essay are kind of self-explanatory. One of the titles is called "The 20 Things You Need to Do If You're a Guy." Another is "These Are the Photos in My Blackberry" and I just show all the photos in my Blackberry with descriptions. One essay is called "B.J. Novak" and it's just talks about B.J. Novak so it's just things like that. Actually, my favorite one is called "Don't Peak in High School."
So it's kind of Mindy Kaling's How-To Guide for Life.
It's very bossy. It's basically a book of all of my bossy opinions.
Your film No Strings Attached opens next week. What was it like working with Natalie Portman and Ashton Kutcher?
Well, I only had that one scene with Ashton but everyday on set people would say, "Ashton got a masseuse for everyone on set!" or "Ashton got a juice truck for the cast and crew today!" And Natalie's like -- I'm really used to being the nerdy, overprotected girl of doctor parents. And even though Natalie has been acting since she was like 10, in her heart, she's just a nice Jewish girl from Long Island whose dad is a doctor and went to Harvard. She just felt like someone I grew up with. She's so East Coast. Her parents really emphasized her education. I got along with her really well. She's completely an unpretentious kind of girl.
I'm pulling for her to win the Golden Globe this weekend.
I know! Me too.
Are you going to the ceremony?
Sadly no. The Office wasn't nominated. Maybe if I was dating someone -- a handsome Golden Globe-nominated actor I would go. I only have about four days to make that happen.
That's my plan, too. When can we expect the next "Subtle Sexuality" installment?
Soon! Last Friday, we shot a country pop song.
Like Taylor Swift?
Like Taylor Swift. We just shot it. I directed it. B.J. is in it. He was the best I've seen him in any episode. He was better in this than anything he's ever done. He was just amazing. I'm not sure exactly when it's coming out but probably in a month or something. We're going to do so much press for it. I'm so proud of it.
What's going to be happening with Kelly the rest of the season on The Office?
It's funny because Kelly appears in episodes at the last minute to tell a funny joke. She doesn't have arcs or anything really. She'll get in a few good jokes but in a lot of ways, she's like a Simpsons cartoon. Not a lot of things happen to her -- maybe one or two things in the season. I don't know though. She might get promoted but we're still not sure. That'd be kind of funny.
How is the romantic comedy you're writing [The Low Self Esteem of Lizzie Gillespie] going these days?
We're looking for a director now. We just turned in our last rewrite so we're just waiting now. I'm not the lead in my movie so...yeah.
Why not?
Seriously. Right? If I'm writing my own movie, why shouldn't I be the star? I don't know why I did that but we are looking for a star and that process just started right now.
Who are your ideal leads?
Gosh there are so many. Reese Witherspoon, Kate Winslet, Greta Gerwig, there are so many lovely actresses out there. Cross your fingers!