Is Eli Roth Co-Directing RZA's Kung Fu Epic?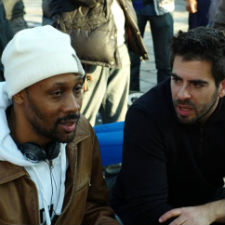 An air of mystery (and, understandably, confusion) has surrounded the awesome-in-theory directorial debut of Wu-Tang Clan rapper-turned-actor RZA, who began filming his period kung fu epic The Man with the Iron Fists last month in China. With the plot largely under wraps -- it involves a weapons-forging blacksmith in feudal China to be played by RZA himself, because of course! -- production details from the period film have been kept largely on the hush, aside from co-producer / co-writer Eli Roth's colorful tweets from the set. That is, until a few cast members began posting (non-spoilery) reports from the set describing how things are going.
Hong Kong actor (and Bay Area native) Daniel Wu kicked things off by reminiscing over his few days spent filming a cameo-sized role in the film, which also stars Lucy Liu, Russell Crowe, and pro fighters Cung Le and Dave Batista:
When I heard about this project, I knew that this was the realization of a lifelong dream for RZA so I wanted to be a part of it no matter what ... [RZA and Roth] are here with a very interesting cast of old school actors, new school actors, famous real fighters as well as famous movie fighters.
This week, actor/stunt performer Darren E. Scott blogged about his week on set in the Songjiang district of Shanghai, revealing that, since the multi-hyphenate director was busy juggling different roles, he was instead directed by Roth himself.
Being that RZA is acting, directing and producing I unfortunately didn't get to work with him, however I had the pleasure of being directed by Eli Roth. Eli was great to work with and keeps his direction simple & straight to the point.
Which raises an intriguing question: Is Roth, who's shepherded the project and co-wrote the script with RZA, also serving as an uncredited director on the film? With action veteran Corey Yuen shooting the fight scenes and Quentin Tarantino also on board as producer, RZA's got a lot of help easing into his directing-starring debut. Bong bong!
· The Man With the Iron Fist [Alive Not Dead]
· Wrapped On Iron Fist [Alive Not Dead]
[Photo by Daniel Wu]