CBS President Discusses Enigma That is Charlie Sheen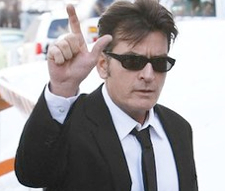 This morning, CBS Entertainment President Nina Tassler kicked off the network's leg of the winter TCA press tour by answering a question about -- wait for it -- her hooker-and-booze-loving Two and a Half Men star Charlie Sheen. "Well, I really didn't expect that question this morning so I'm really taken by surprise," Tassler cracked before responding in earnest. Her full comments about the demon-plagued actor after the jump.
"Look, obviously we've thought -- and I've personally thought a lot about this -- and we have a high level of concern," Tassler began. "How could I not? But I have to speak of this personally first. On a basic human-level concern, of course. He is a father. He has children. He has a family. So obviously there is concern on a simplistic level."
But it's not that simple because even if Charlie Sheen is a total mess, he shows up to set on time, and Two and a Half Men remains the most successful sitcom on the network.
"Charlie is a professional," Tassler continued. "He comes to work and he does his work extremely well. We are taping tonight. As I said, it is very complicated. [...] On a personal level, obviously concerned. On a professional level, he does his job, he does it well and that's really all I have to say. [...] The show is as successful as it has always been so we are continuing our job."