Late Night Highlights: Stephen Colbert Makes Sense of Sarah Palin's 'Blood Libel' Remark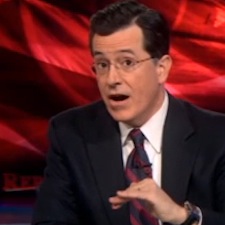 Last night, Stephen Colbert did his best to make sense -- and make light -- of Sarah Palin's unfortunate and incorrect use of the term "blood libel" on The Colbert Report. Elsewhere, Olivia Munn told David Letterman how to avoid the cops, Seth Rogen talked about Cameron Diaz in her underwear, and Conan punished his audience for laughing.
4. Punishing the Audience
When Conan O'Brien's audience laughed at what he deemed a horrible joke, he reprimanded them for their awful comedic taste.