Welcome Movieline's New Contributors, Including Critic Elvis Mitchell!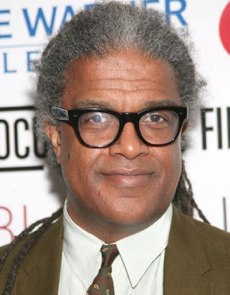 Guess who's expaaaanndiiiing? Movieline today officially welcomes critic Elvis Mitchell, West Coast editor Jen Yamato and DVD editor Alonso Duralde into the fold. Jen and Alonso, as you have no doubt noticed, have been contributing here for a while now, while Elvis joins us for the first time this afternoon; it's a pleasure to have them aboard! Full press release after the jump.
January 12, 2010 -- Movieline, the popular entertainment brand first established in 1989 then revived online in 2009 by Jay Penske's MMC, has hired celebrated writer and critic Elvis Mitchell to serve as Chief Film Critic for the site. Mitchell, the former New York Times film critic and current host of the KCRW radio program "The Treatment," will be reviewing films weekly alongside Movieline's other Chief Critic, Stephanie Zacharek, and Staff Critic, Michelle Orange. Additionally, he will conduct interviews and write unique features for the site about popular entertainment and the film industry.
"Movieline represents the future of film journalism and I love what they have been doing," says Mitchell. "Any place smart enough to bring Stephanie Zacharek to the party is definitely a site I want to be a part of."
Movieline.com is also happy to welcome Jen Yamato as West Coast Editor of the site. Yamato is the former Film Critic for Movies.com as well as a regular contributor to Cinematical, Film.com and FEAR.net. Further, Movieline.com has also brought on author and former MSNBC.com entertainment writer and Arts & Entertainment Editor for The Advocate, Alonso Duralde as DVD Editor of the site.
"I couldn't be more thrilled about Elvis Mitchell joining the team," says Movieline.com General Manager and Editorial Director Charles Runnette. "Elvis is a leading voice not only in film criticism and popular culture but in the business of film, all of the things that Movieline is about. Bringing on Jen and Alonso further rounds out our already impressive line-up of talented writers and editors, and demonstrates our ongoing commitment to make Movieline.com the Internet's top film review and commentary site, period."
""All of us at MMC are very excited to welcome Elvis into our family," said Jay Penske, Founder and CEO of MMC, which owns and operates Movieline. "We remain committed to making Movieline the most engaging and vibrant destination for film criticism, and the building of our team remains the most central element of that strategy--with Elvis Mitchell and Stephanie Zacharek now leading the Movieline reviews and criticism, our site holds almost limitless potential."
About Elvis Mitchell:
Elvis Mitchell has hosted nationally syndicated "The Treatment," with its inside look at the creators of popular culture, since KCRW first aired the program in April of 1996. Mitchell has also served as the film critic at the New York Times from January 2000 until May of 2005 and as the film critic for NPR's "Weekend Edition." Prior to those positions, Mitchell had been film critic at the Fort Worth Star Telegram, where he received the 1999 AASFE award for criticism, the LA Weekly and the Detroit Free Press. He has also been editor-at-large at Spin magazine, host for the HBO series The Black List, and remains a special correspondent for Interview magazine.
About Jen Yamato:
Yamato is the former film critic for Movies.com and a regular contributor to the most popular movie blogs on the web including Cinematical, Film.com and FEAR.net. Her unique insights and sharp wit have made her a regular fixture on CNN and radio stations across the country such as WBLI-FM in New York. Prior to Movies.com, Jen was the Senior Editor at RottenTomatoes.com.
About Alonso Duralde:
Alonso Duralde has written about film for MSNBC.com, and the Village Voice, among many other publications. He has served as programmer for the Outfest Film Festival in Los Angeles and as a pre-screener for the Sundance Film Festival. The former Arts and Entertainment Editor at The Advocate, Duralde also spent five years as the Artistic Director for the USA Film Festival/Dallas. Duralde's second book, Have Yourself a Movie Little Christmas, was released in October 2010. He is also the author of 101 Must-See Movies for Gay Men.
About Movieline:
Movieline made its mark as an irreverent, intelligent "must-read" national entertainment magazine known for its obsessive devotion to movies, legendary celebrity interviews and colorful commentary about life in Hollywood. Recapturing the print publication's iconic voice, MMC launched Movieline.com in 2009, leveraging the magazine's rich history in a new, relevant way -- creating an online film destination with the vitality and immediacy of a newsy Hollywood blog, coupled with in-depth interviews, well-crafted reviews and engaging commentary.
Movieline.com is a division of Mail.com Media Corporation (MMC), a leading digital media company founded by Jay Penske in 2004. MMC owns a portfolio of lifestyle brands that provide the web's best original content in categories including entertainment, sports, breaking news, media, tech, finance, health, beauty, shopping, fashion and automotive. Deadline.com, TVline.com, Hollywoodlife.com, BGR.com, OnCars.com, Fan.com are all part of the expanding MMC portfolio.
Movieline: www.movieline.com
Like Us On Facebook: http://www.facebook.com/movieline
Follow Us On Twitter: http://twitter.com/Movieline
MMC Corporation: http://corp.mail.com/
###