See Rooney Mara Transform into Lisbeth Salander for The Girl with the Dragon Tattoo
There have been paparazzi spied glimpses of Rooney Mara in character as Lisbeth Salander on the set of The Girl with the Dragon Tattoo, but official looks at her striking transformation from Mark Zuckerberg dumper to leather-clad computer hacker have alluded the Internet. Until now, of course. Mara graces the cover of W magazine in full Lisbeth regalia, and she looks positively bad ass. Click ahead for your first look.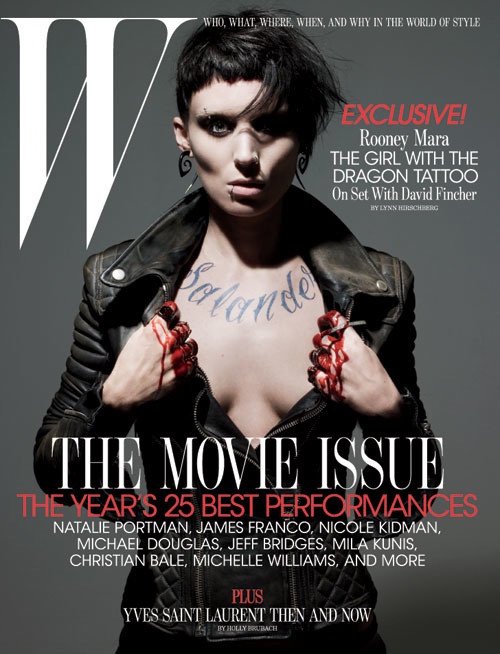 In the ensuing profile -- which reveals that Jennifer Lawrence and Scarlett Johansson also auditioned for the role -- Mara's Lisbeth look is described as such:
The transformation began with the hair. Mara's long brown mane was dyed black and cut in a series of jagged points that looked as if she had chopped it herself with a dull razor. The bangs were cropped very short and uneven, and the rest of the hair was layered into an extended shag. The final result was a mash-up of brazen Seventies punk and spooky Eighties goth with a dash of S&M temptress.
Awesome. Less awesome (for fans of Stieg Larsson's book at least): That the ending of the film might vary from the ending of the novel.
· David Fincher Gets the Girl [W]