Enough, Already, About Charlie Sheen's Hooker-and-Booze Antics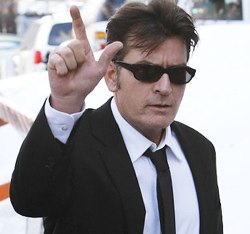 As you know, it's increasingly difficult to get through a week of culture without hearing or reading about Charlies Sheen's latest lurid exploits. Historically they involve some ho or porn star and a couple gallons of booze in a hotel room -- quarters the Two and a Half Men star invariably trashes (i.e. breaks a chair and musses the bed, or something) -- followed by breathless record of their fraught time together. I don't want to spend too long belaboring a post about not caring, but at some point, we really should take a moment to ask: Who cares? Enough, already!
Let's put it this way: Imagine you're Charlie Sheen. Platoon was 25 years ago. The intervening period amounts to a checkered history of films, addictions and legal trouble. All you want to do is get paid and get laid, maybe have a drink or 1,000 every now and then, and celebrate an assault-y family Christmas whenever possible. And why? Why else? You're on the unfunniest show on television that apparently everybody watches. You haven't lost your edge so much as filed it down to a soft, harmless nub that won't stay in its sheath, and you've cashed in handsomely in the process.
Actions have consequences! Are any of us really that appalled or even surprised that after an extended period of time playing the lowest-common-denominator cad of Two and a Half Men -- a sanitized version of his own self-destructive, hedonistic impudence that has persisted now into two generations -- the real Sheen would go off after work to reclaim his hooker-and-booze consuming identity? Like, take Jay Leno: When you're going to bore America to sleep every night for almost 20 years, you're going to need a hobby. Why not automobile restoration, that subconscious art of connecting with some vanquished heritage? More than signifying an outlet to spend high-end network money, his opulent garage is a cathedral where sins are confessed and guilt is assuaged. And then it's back to Burbank. Some call it leisure, some call it lifestyle, but ultimately it's who you're not when you don't have to answer to mediocrity.
The worst we can say for Sheen is that his own reported exculpations -- today it was porn-star/homewrecker du jour Bombshell McGee tattling about the "chaos" of his Vegas bedroom bacchanals; yesterday it was the 2008 winner of AVN's Best Anal Sex Scene, prompting little more than the obvious reaction, "Well, of course, these assholes deserve each other" -- drive him further into the social-spiritual debt. But the monitors of that debt, from TMZ to Huffington Post to Page Six, ignore the fundamental dynamics of Hurricane Charlie: It's just what he does. It's his nature. Maybe the fact that he's on America's biggest hit show makes it problematic for its producers and network, but America itself -- the audience, and thus the one thing Sheen and his chroniclers share, so they should really know this -- knowingly enables this nature. It's about as controversial as waking up to snow in Minneapolis. You grab your coat, your shovel it, you move on. Or alternatively, if it frustrates you, you move. Big deal.
Anyway, it makes sense that the Charlie Sheen phenomenon might seem sordid or sad at a glance -- that he's a man out of control who requires intervention or, at the very least, better taste in women with a stronger sense of discretion, like the ones the rest of debauched Hollywood pays to sleep with. But then he wouldn't be Charlie Sheen! He'd just be the shell of the young talent we knew from the late '80s and early '90s, slumming it on a terrible, well-paying sitcom, cheating on his wife, living some lie. At least he owns his wasted, half-gone persona, the one that knows hotels have even worse guests who get away with more than he does and whose voracious appetite for decadence reflects that of his paying public. That's not news, at least not in 2011. That's life.